Apple looks to offload property for Stockholm store blocked by popular resistance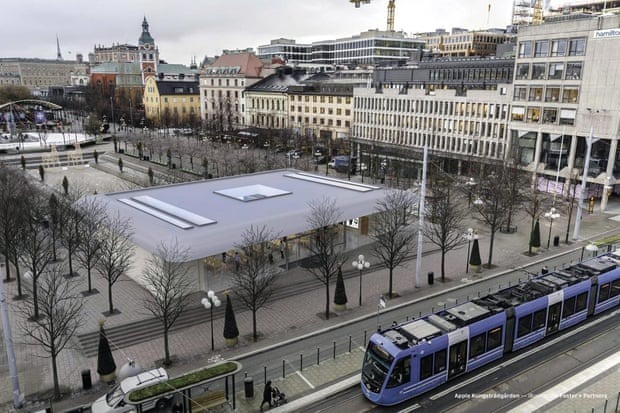 AppleInsider is supported by its audience and may earn commission as an Amazon Associate and affiliate partner on qualifying purchases. These affiliate partnerships do not influence our editorial content.
With its original plans to build a Stockholm store mothballed, Apple is reportedly looking to sell back the Kungstradgarden property it intended to occupy.
The company is in the process of trying to sell the site — still hosting a TGI Friday's — back to the Swedish city, according to Fastighetsvarlden. One member of Stockholm's Urban Development Committee, Bjorn Ljung, indicated that Apple is aiming for a price of 179 million kronor, or about $19.3 million — more than the 129 million kronor ($13.9 million) the company first paid.
Apple's concept was opposed not just by conservation groups but the general public, and some government organizations like Stockholm's Beauty Council. The city received approximately 1,800 public responses, nearly all of them standing up to Apple.
Corporate representatives were "completely furious" when the Kungstradgarden store was blocked, Fastighetsvarlden said. A real estate firm, Vasakronan, reportedly offered other city properties as an alternative, all of which Apple turned down.
The Kungstradgarden is a historic park often used for public events, and much of the concern over Apple's plans was that they would've commercialized the space — TGI Friday's is only able to operate because of a deal specific to cafes and restaurants. City officials would've had to rezone for private retail, and go a step further, granting the company another 375 square meters around its current land.
Apple had promised to host its own events, including concerts, but these would most likely have fallen under the "Today at Apple" banner, intended to draw store traffic.
Apple's retail vision has come into conflict with public realities numerous times in the past. Last July the company was forced to abandon its original design for a shop in Melbourne, Australia after people complained it looked like a Pizza Hut and didn't match surrounding buildings.