Amazon acquires mesh Wi-Fi router startup eero as part of smart home push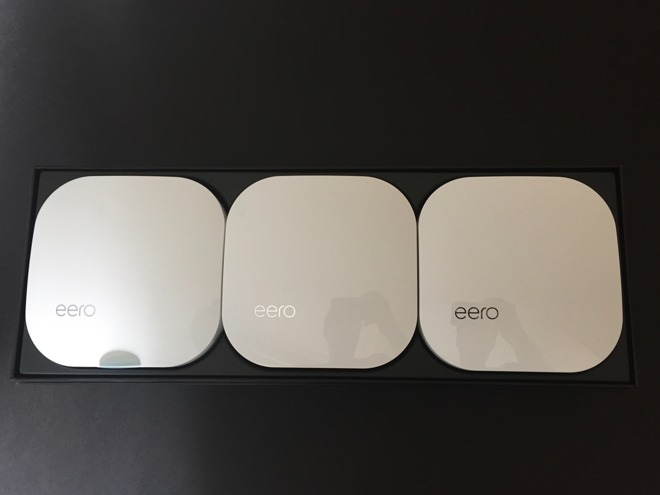 Amazon on Monday said it has reached a deal to acquire eero, manufacturer of a range of popular mesh networking hardware that helps users distribute Wi-Fi signals throughout their home.
Announced in a joint press release, the acquisition represents a successful exit to eero's startup activities, which began in 2014. Details of the deal have not been disclosed pending closing conditions.
It appears that Amazon will use eero to further an ongoing push into the smart home space that began with the e-tailer's line of Echo speakers. Loaded with Alexa voice assistant smarts, the smart speakers serve up answers to general customer queries and present another access portal to Amazon's online store.
"We are incredibly impressed with the eero team and how quickly they invented a WiFi solution that makes connected devices just work," said Dave Limp, SVP of Amazon Devices and Services. "We have a shared vision that the smart home experience can get even easier, and we're committed to continue innovating on behalf of customers."
Mesh networking solutions solve the problem of Wi-Fi dead spots by employing cooperative hardware nodes to evenly distribute consistent coverage over large areas like multi-level homes. The system presented by eero goes a step further than conventional mesh products with a streamlined setup and hardware management process, advanced user and parental controls, cloud connectivity for updates and other value-added features.
In 2017, the startup updated its lineup with a tri-band Wi-Fi base station and dual-band Beacon devices that plug directly into wall outlets for easy installation. Perhaps of interest to Amazon, the second-generation hardware features Thread radio components for communicating with low-power "internet of things" devices.
Beyond Limp's statement on "innovating on behalf of consumers," Amazon's plans for eero are unknown. Amazon's Echo range would make a suitable platform for integration, potentially offering users both Alexa and enhanced Wi-Fi with a single device. In return, Amazon will likely retain unfettered access to eero users' internet usage habits.
The second-generation eero system is still up for sale on Amazon's website, with full sets — one base station and two Beacons — starting at $399.