Apple falls from first to 17th place on Fast Company's 'Most Innovative' list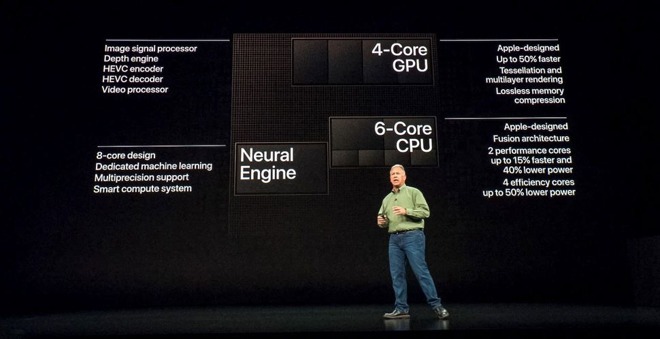 AppleInsider is supported by its audience and may earn commission as an Amazon Associate and affiliate partner on qualifying purchases. These affiliate partnerships do not influence our editorial content.
A year after taking the top spot on business magazine Fast Company's list of the "World's 50 Most Innovative Companies" in the world, Apple has fallen to 17th place behind both established corporations and fresh startups.
Published on Wednesday, Fast Company's annual list puts Apple in the No. 17 spot for its advancements in chip design. An accompanying explainer points to the A12 Bionic system-on-chip, which features 6.9 billion transistors in a unique package tailored for efficient processing of artificial intelligence, augmented reality and photography tasks.
"Apple's most impressive new product of 2018 wasn't a phone or a tablet, but a chip: the A12 Bionic," writes Harry McCracken, Technology Editor at Fast Company. "At a time when it remains tougher than ever to induce consumers to upgrade, as proven by Apple's surprise January move to cut revenue guidance on sluggish iPhone sales, the innovative chip design positions the company to create a whole new generation of irresistible experiences."
Released with iPhone XS last year, the A12 Bionic is built on a 7 nanometer process, allowing for an extremely dense six-core design. According to Apple, the A12's two high performance cores are 15 percent faster than 2017's A11 Bionic, but consume 40 percent less power, while four efficiency consume 50 percent less energy.
Benchmarks bear out Apple's claims, with tests showing markedly increased performance that rivals some desktop CPUs.
Above Apple in Fast Company's rankings are established corporations including The Walt Disney Company, the National Basketball Association and Target, which are respectively recognized for delving into the streaming business, creating an esports league and creating lucrative in-house brands. Tech companies like Alibaba, Square, Twitch, Shopify, AnchorFree and Peloton also placed ahead of the iPhone maker.
First and second on the list are China's Meituan Dianping and Singapore-based Grab, so-called "transactional super apps" that connect millions of people through a collection of lifestyle products and services.
Apple took the first spot last year on the back of an "ambitious" approach to hardware and software engineering. The company's A-series processors were also cited as a positive, as were initiatives like CareKit, Apple Music and AI.