Compared: Samsung's Galaxy S10 range vs. Apple's iPhone XS and iPhone XR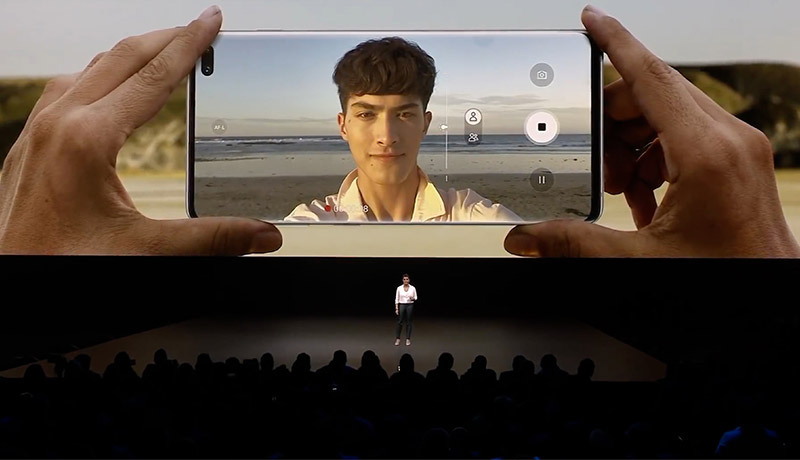 Apple's biggest smartphone rival, Samsung, has just announced its latest flagship devices, and even long-time iPhone users have to admit there are a few features that look really impressive. AppleInsider pits the Samsung launches against the iPhone XS to see how the rivals compare.
Full detailed comparisons of the new Galaxy S10 models will be made once the new phones hit the market, but for the time being, it's worth taking a look at the latest launches on paper to see how they stack up to the latest iPhones.
Samsung's lineup now looks similar to Apple's latest offerings, with three mainstream devices consisting of the standard Galaxy S10, a larger S10+ model and a budget-oriented Galaxy S10e model that is clearly targeting the iPhone XR, complete with a $750 price tag. There was also the announcement for the $1,980 Galaxy Fold, but a closer examination of that device is for another time.
The S10 and S10 Plus come in at $100 less than Apple's competing devices, but pack in a lot of new tech.
Displays and Cutouts
The 6.1-inch S10 has a larger display than the 5.8-inch S10e, but the Plus model's 6.4-inch screen is smaller than Apple's 6.5-inch XS Max. As usual, they are high-resolution OLED displays, but this time with the HDR10+ certification which is the first specification that could give Apple fans a bit of envy.
Apple's iPhone XS Max is measured to put out just under 700 nits, but the S10's are rated up to a shocking 1,200 nits of brightness, so you'll have no problem using it in direct sunlight, and this is also what allows for the HDR10+.
The display takes up most of the front face , with a chin larger than the iPhone's, but one thing that's missing compared to most other smartphones is the lack of a notch. Instead, Samsung skipped that trend and opted for camera cutouts, allowing for more of the screen to be used and not wasted with empty black space.
Cameras
Inside of those cutouts, there is a 10-megapixel shooter in the S10 capable of recording 4K video, with the S10 Plus adding a wide-angle 8MP camera for depth sensing. The iPhone XS and XS Max feature a 7MP shooter limited to 1080p at 60 frames per second.
On the rear of the S10+, instead of offering two 12MP cameras, a standard and portrait lens, we now have a triple camera setup made up of two 12MP shooters and an additional 16MP ultra-wide lens camera.
The photos shown by Samsung look admittedly great. A wide angle lens is something we have wanted from Apple for a while and is rumored to come in Apple's next flagship iPhone. As with previous Samsung models, the standard lens has dual apertures which helped with low light photography when we compared it to the iPhone XS in our camera comparison.
One area the iPhone XS trumped the Note 9 was video stabilization and dynamic range. Samsung's punching back with their "Super steady video" mode and High dynamic range recording.
The latest iPhones will combine alternate video frames if shooting at 24 or 30 frames per second to improve dynamic range but the video file was still SDR, whereas the S10 will save the file in HDR so its ready to upload and view in full HDR for compatible displays.
Biometric Security and Power
Unlike Apple's Face ID, Samsung is doubling down on fingerprint authentication with its new under-display ultrasonic fingerprint scanner. Unlike the OnePlus 6T which was the first mass-market phone to bring this kind of tech to the U.S., the S10 doesn't require the display to be on or to shine a bright light since it isn't an optical sensor. This also means it'll unlock the phone faster.
Many will still prefer Face ID, which doesn't require you to place a finger in a certain spot and can be used for Apple Pay and Safari Autofill.
As for the ports, it uses USB-C along with a headphone jack that still allows for an iP68 water resistance rating, which may be one of the reasons Apple removed it.
On the inside, the S10 has a 3,400 mAh battery compared to 2,658 mAh on the iPhone XS. The S10 Plus has a massive 4,100 mAh compared to 3,3174 mAh in the XS Max. iOS is more power efficient than Android but with batteries that much larger, the S10 devices will definitely have an edge.
One new trick is the ability to wirelessly charge other devices, such as the new Galaxy Buds. This is also a feature rumored for the next iPhone.
Processing, Memory, and Connectivity
At the heart of this new phone, we have the new 7-nanometer Snapdragon 855 for the U.S. market, and early benchmarks show Geekbench 4 scores of around 3,500 in single-core and 11,200 in multi-core tests. These are top notch scores but they still don't beat the half-year-old iPhone XS which has a slightly higher multi-core score of around 11,450 and a much higher single-core score of 4,800.
On the graphics side, GFX bench Manhattan off screen test results in a high score of 102 fps, over 20 percent faster than the Note 9, but not enough to beat the iPhone XS' A12 Bionic chip's 122 fps. They also include an NPU, or neural processing unit, a competitor to Apple's Neural Engine.
As for RAM, we have much more than the iPhones XS' 4GB, starting with 8GB on the lower-priced models and jumping all the way up to 12GB if you buy the version with a 1TB storage capacity. This is good news for Android since the OS requires more memory to stay smooth and keep background apps open compared to iPhones with iOS. Storage on the S10E starts at 128GB, which is a $100 upgrade on the iPhone XS.
The Galaxy S10 uses the latest Wi-Fi 6 for wireless networking and 2Gbps LTE for cellular access, offering faster connection speeds if your service provider can provide it. Samsung is still offering a microSD card slot for memory expansion, which would be a welcome addition that is extremely unlikely to appear in an iPhone.
Galaxy 10e vs. iPhone XR
The S10e is a direct rival to Apple's iPhone XR in many ways. Priced the same at $750, glancing at the front it even looks a bit like the iPhone XR, except without the notch. The display size matches the XS at 5.8 inches but is smaller than the XR's 6.1-inch screen, while being practically the same size.
One major difference is the display technology. Apple chose an LCD for cost savings, but Samsung used its OLED displays, and this one doesn't disappoint as it uses the same HDR10+ ultra bright panel as the S10. This was arguably the biggest disappointment with the XR, so it's impressive that Samsung stuck with an OLED for their more budget-priced model.
Just like the XR, the S10e has less RAM than the flagship, but it's still twice as much as the iPhone equivalent offers at 6GB against 3GB on the XR. This doubling goes along to storage as well, with the S10e having 128GB as standard compared to 64GB. If you move up to 512GB of storage the RAM will also bump up to 8GB.
Another similarity with Apple's offering, Samsung is putting the same high-end chip in their $750 phone, giving it comparable processing power to the other models. On the back, neither the iPhone XR nor Galaxy S10e has a dedicated telephoto lens, but the Samsung does have two cameras, the second being the 16MP ultra wide shooter.
Battery-wise, the S10e leads with a slightly larger 3,100 mAh battery versus 2,942 mAh, but thanks to iPhone's superior power management, the XR should lead in real-world battery life.
Overall, we are quite impressed with Samsung's latest flagships. Not only do we have new technology packed in but also at a lower price than Apple's offering, especially when you compare base storage amounts. The iPhone XR's biggest downside, the display, is a non-issue on the S10e.
Where to buy
Meanwhile, the following carriers are also offering incentives on both Apple and Samsung devices: