Tim Cook changes Twitter name to 'Tim Apple' in response to Trump gaffe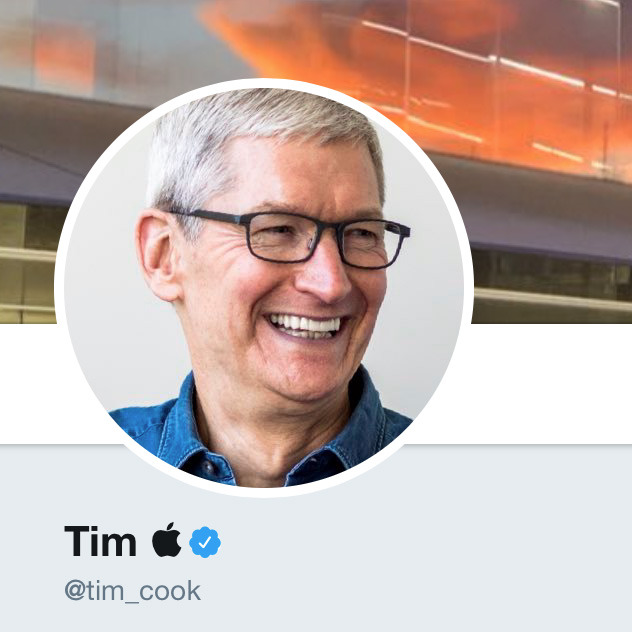 After President Donald Trump accidentally referred to Apple CEO Tim Cook as "Tim Apple," the exec's social media team seems to have capitalized on the opportunity.
Cook's Twitter profile now names him as "Tim Apple," the last name being represented by an Apple logo on compatible devices. The rest of his profile and feed is otherwise unchanged, making no references to Trump's comments.
The CEO was in Washington, D.C. yesterday as a member of the White House's American Workforce Policy Advisory Board, sitting directly next to Trump.
"People like Tim — you're expanding all over and doing things I really wanted you to right from the beginning," Trump said. "I used to say, 'Tim, you've got to start doing it over here,' and you really have. You really put a big investment in our country. We appreciate it very much, Tim Apple."
Trump is known for both deliberately and accidentally changing the names of famous people. He once called Lockheed Martin CEO Marillyn Hewson "Marillyn Lockheed," and has referred to Amazon CEO Jeff Bezos as "Jeff Bozo," mainly because his newspaper the Washington Post has regularly covered the White House in a manner that the president does not prefer.
In Wednesday's meeting Trump said he considered Cook "a friend," if largely because of Apple's hiring sprees and cash repatriation. It's questionable whether the two have a genuine friendship — the CEO has regularly spoken out against Trump's policies on matters like immigration, LGBT rights, climate change, and Chinese trade. Apple has at least benefited from lowered corporate taxes.