Elizabeth Warren calls for tech giant breakup, with Apple in the cross-hairs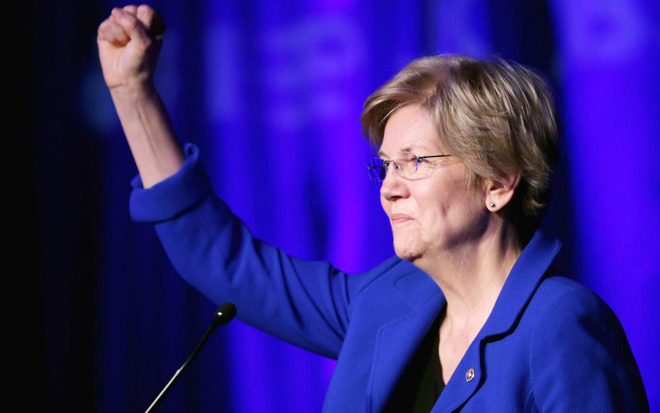 AppleInsider may earn an affiliate commission on purchases made through links on our site.
On Friday, Democratic Senator and 2020 presidential candidate Elizabeth Warren advocated for breaking up major tech companies with large services, specifically naming Amazon, Facebook, and Google — but Apple fits in the targeted category as well.
Warren's platform calls for "passing legislation that requires large tech platforms to be designated as 'Platform Utilities' and broken apart from any participant on that platform," according to a pitch for the idea on Medium.
"Platform utilities" subject to mandated break-up would be defined as "companies with an annual global revenue of $25 billion or more and that offer to the public an online marketplace, an exchange, or a platform for connecting third parties." Such businesses would be prevented from "owning both the platform utility and any participants on that platform" or sharing data with third parties. They would also have to "meet a standard of fair, reasonable, and nondiscriminatory dealing with users."
Warren's post specifically targets Amazon, Facebook, and Google by name. Warren highlights Amazon's dominance in e-commerce and the fact that over 70 percent of all internet traffic passes through sites operated by Google or Facebook.
"As these companies have grown larger and more powerful, they have used their resources and control over the way we use the Internet to squash small businesses and innovation, and substitute their own financial interests for the broader interests of the American people," she wrote. "To restore the balance of power in our democracy, to promote competition, and to ensure that the next generation of technology innovation is as vibrant as the last, it's time to break up our biggest tech companies."
By definition, Warren's proposed policies would also impact Apple. The company obviously exceeds $25 billion in annual revenue, qualifying it as a "Platform utility" for income. The App Store offers apps like Spotify, Pandora, and Netflix, but those are forced to compete with services like Apple Music and iTunes, which come pre-installed on every Apple device. Apple also claims a cut from every App Store transaction, even if it's merely a subscription to outside content.
The senator's proposal has long-running U.S. precedent. Warren pointed to Microsoft, which in the '90s was hit by an antitrust case that loosened its control on Web browsers. Going further back, the breakups of monopolies by AT&T, J.P. Morgan, and Standard Oil were instrumental in establishing the modern business landscape.
Apple has regularly been hit with antitrust actions, such as the one that penalized it $400 million for conspiring with book publishers, and another involving the App Store, which recently made an appearance at the U.S. Supreme Court. The company has vehemently denied any wrongdoing, even as judges, lawyers, and other critics point out that the App Store is the only sanctioned place iPhone and iPad owners can get software. Apple has said this ensures a base level of quality and safety.