Apple's self-driving cars could automatically take pictures of points of interest for drivers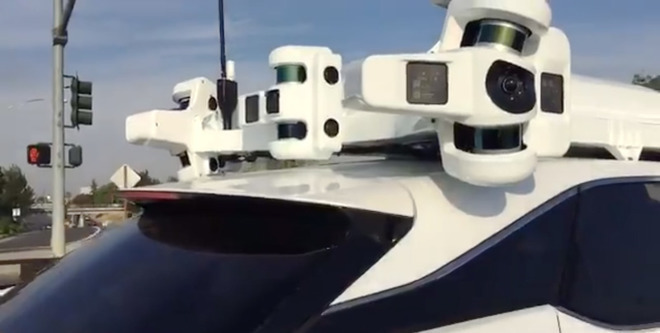 Apple is continuing to work on areas of car design and self-driving vehicle systems as part of "Project Titan," including how to improve a car's ability to detect its immediate surroundings using sensors, and to automatically determine nearby points of interest that other car systems need to know about.
Self-driving vehicle systems are complex to produce, with many different elements working together to monitor the local area for hazards and potential routes. These systems rely on a plethora of sensors, including LIDAR and proximity sensors, to ensure the vehicle avoids collisions and keeps people inside and outside the car safe from harm.
While many self-driving technologies have already been established and used by multiple firms working in the space, there is still room for improvements, including in how the systems collect and share data.
The first of two patent applications published by the US Patent and Trademark Office on Thursday for "Embedded light sensors" attempts to improve how sensors that rely on light emitters work. If placed within a single housing, Apple suggests the sensor could be affected by the emitter, affecting the way it functions.
The suggestion is that sensors in each corner of the vehicle, such as at the headlamps, could be within a single housing with partitions for each section, but can still shine out of a common window element. The use of non-reflective layers on the interior surface of the window will help minimize light scatter from the emitter to the connected sensor, while opaque materials could be used to partially block light that has direct line-of-sight travel between the components.
Apple suggests the placement of the sensors could be used to help drivers know of nearby elements, similar to how proximity sensors can help with parking, as well as to help self-driving systems know about its surroundings.
The second patent application, "Automated capture of image data for points of interest," covers how a self driving system could determine areas of an environment that could be worth knowing about, like other road users or signs. After determining the existence of the elements, the image capturing and processing system could store the data locally and share it with other systems used to maintain the vehicle's transit.
According to the filing, the processing would be able to automatically determine the points of interest by analyzing data received by the onboard imaging and sensor systems. The data can range from panoramic images to "three-dimensional reconstructions of a scene," with the latter more useful for permanent road fixtures.
The system can also be triggered by a user request to record information on a scene, making it useful for capturing special moments or environments, or more practically, data pertaining to an accident. Users could also request for image data to be edited before being output to another device, or saved to the cloud.
Apple files numerous patent applications with the USPTO on a weekly basis, but while the existence of the filings indicates areas of interest to the company, it is far from a guarantee that the concepts described will make their way into commercial products.
"Project Titan," originally an attempt to design a vehicle before a change of focus towards self-driving systems, is the name used to refer to much of Apple's automotive work. The iPhone maker currently operates a fleet of vehicles in California for testing, complete with complex sensor arrays, but the ultimate goal of the project remains unknown.
Numerous patents and applications have been made relating to vehicle design and self-driving systems, including how to use gestures to control autonomous vehicles, the application of augmented reality on a windscreen to show an obscured route ahead, inter-vehicle communications with other self-driving systems, and even summoning and paying for travel in a self-driving taxi via an iPhone.