Benchmarks for high-end iMac 5K show 75 percent speed gain over 2017 model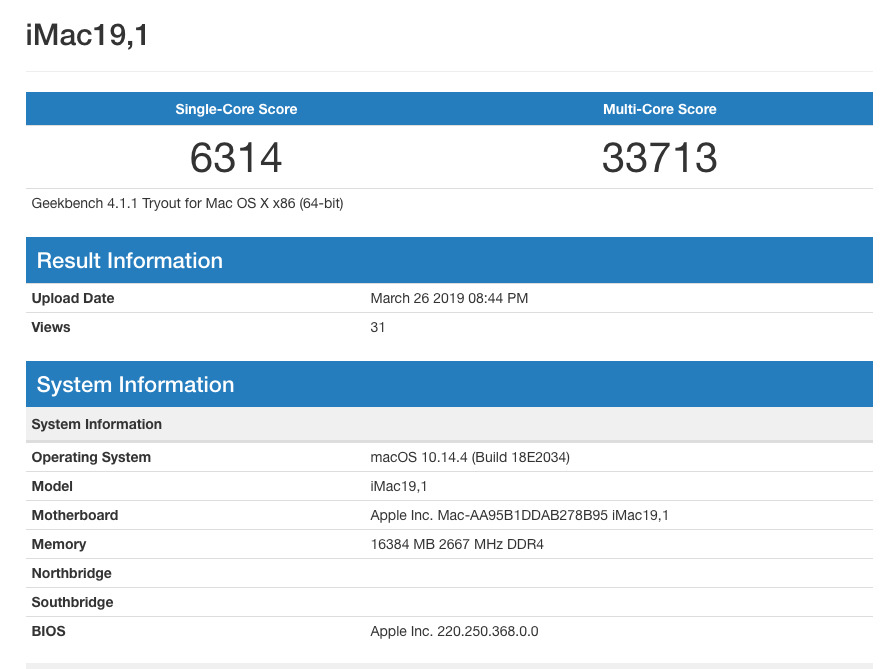 A set of new benchmarks for what appears to be the high-end iMac 5K have surfaced, with the published results from Geekbench suggesting it will be a considerable upgrade compared with the 2017 refresh of the Mac product line.
Appearing on the Geekbench results browser as "iMac19.1," the model tested is described as having an Intel Core i9-9900K processor, an eight-core chip with a base frequency of 3.6GHz. Reportedly running macOS 10.14.4, the device is also equipped with 16 gigabytes of DDR4 memory.
The results claim it has a single-core score of 6314 and a multi-core score of 33,713. Both are considerable improvements on the mid-2017 27-inch iMac, which was equipped with an Intel Core i7-7700K in one set of benchmarks, with single-core and multi-core scores of 5,684 and 19,372 respectively.
In AppleInsider's own testing of the 2019 iMac 4K, the test unit achieved a single-core score of 4,819 and 14,410 for multi-core tests. That particular model had the base configuration of a Core i3 processor clocked at 3.6GHz and 8 gigabytes of memory.
Apple refreshed its iMac lineup on March 19 as part of a collection of product changes. Among the changes includes upgrades to 8th-generation processors for the 21.5-inch iMac, 9th-generation six-core and eight-core processors for the 27-inch iMac, and GPU options for the Radeon Pro Vega 20 and Vega 48 respectively.
The current 5K iMacs start from $1,799 with a 3.0GHz six-core processor, 8GB of RAM, a 1TB Fusion drive, and Radeon Pro 570X graphics. The higher-priced $2,299 configuration boasts a 3.7GHz six-core i5 processor, 8GB of RAM, a 2TB Fusion drive, and a Radeon Pro 580X, with options to upgrade to a Core i9 processor for $400 and Vega 48 graphics for $450.