iPad mini the same on the outside with completely new internals, demonstrates teardown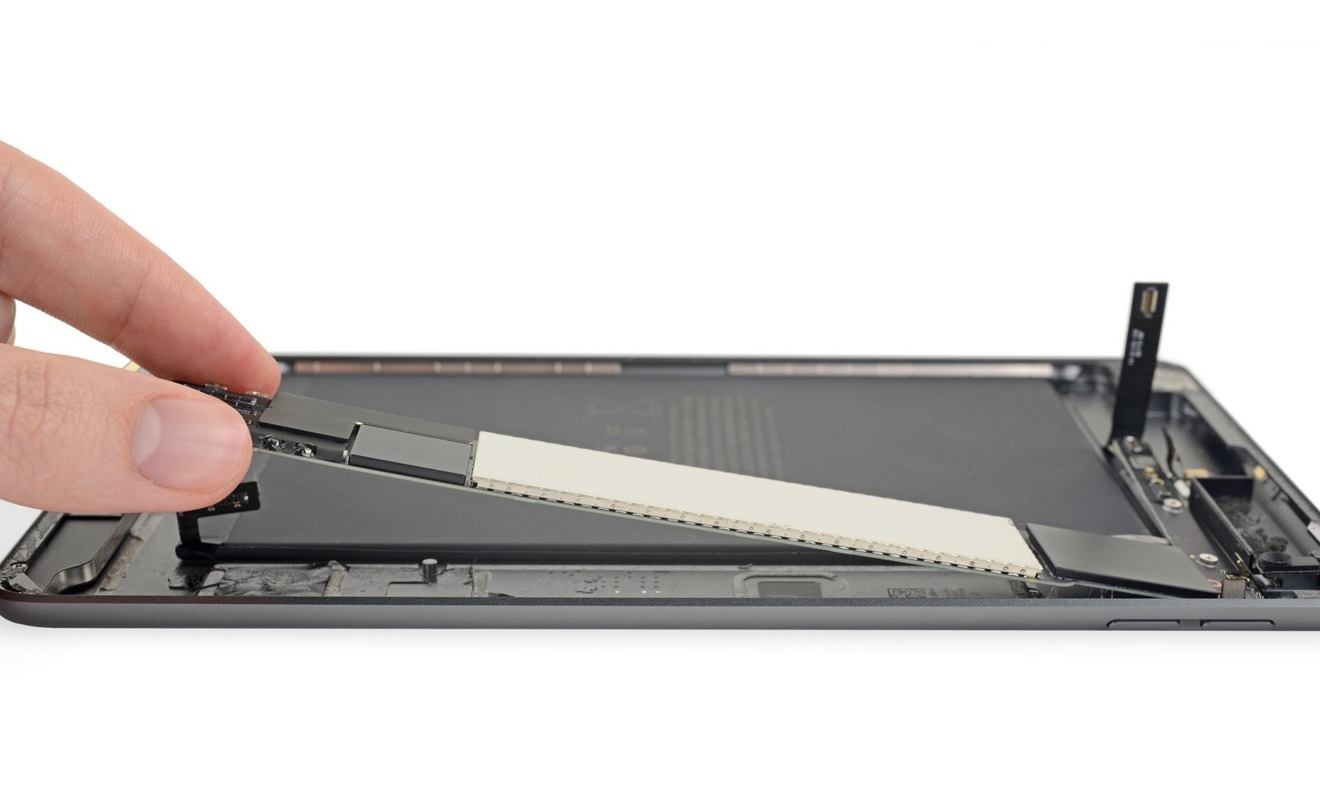 The fifth-generation iPad mini may be physically similar to the previous version externally, but a teardown of the latest pint-sized Apple tablet shows nearly everything inside has been changed to bring the mobile device up to date.
Retaining the same visual appearance as its predecessor, the iPad mini 5 offers no real clues to its updated nature, according to iFixit, except for the appearance of the model number A2133 and the removal of regulatory markings from the rear of the device.
Moving the teardown inside by the use of heated pads, suction cups, and prodding tools, the components used for the refreshed model have gone through considerable changes. One early discovery is how the battery flex connector is glued to a cover bracket, a design change that automatically disconnects the battery when the bracket is removed, a change that can potentially save from accidentally damaging the display's backlight.
The battery is a 19.32 Watt-hour unit that is similar to the fourth-generation in capacity, but with new connectors that makes it incompatible to use with earlier models. The front-facing camera module has been updated, along with the True Tone ambient light sensors, and the microphones have also been moved.
The camera is the same 7-megapixel f/2.2 version used in the 10.5-inch iPad Pro, though it uses a similar housing to the 1.2-megapixel version from the previous iPad mini.
The chips inside the casing include what is believed to be a Parade timing controller, Texas Instruments LCD bias and level shifters, a Broadcom touchscreen controller, NFC and USB charging controllers from NXP, Toshiba flash memory, and Apple Bluetooth, Wi-Fi, and power management chips. The A12 Bionic system-on-chip is noted as being layered over 3 gigabytes of Samsung RAM.
The iPad mini 5 has been given a "repairability" score of two out of a possible ten. Though a single Phillips screwdriver is needed to deal with all of the screws, and that many components are modular and independently replaceable, the difficulty of the battery replacement and the need to replace the display for Touch ID repairs, as well as the heavy usage of glue, counts against the tablet's score.