Sonnet eGFX Radeon RX 560 Breakaway Puck hits Apple retail soon, but you don't have to wait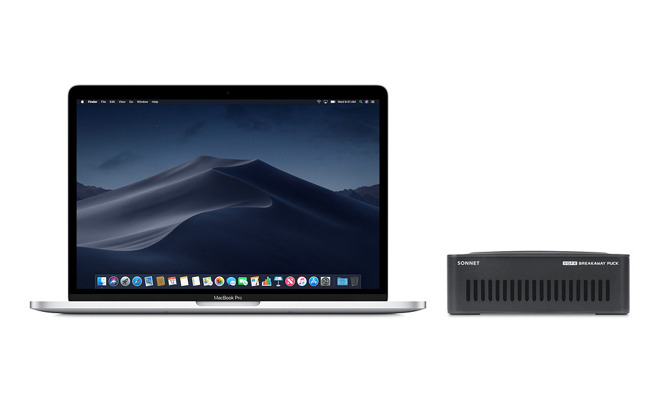 AppleInsider may earn an affiliate commission on purchases made through links on our site.
A less expensive external GPU option for Thunderbolt 3 Macs, the Sonnet eGFX Breakaway Puck Radeon RX 560, is now available through Apple's online store and may soon hit some physical outlets, but there are options for buying now.
The Puck can handle up to four 4K monitors, thanks in part to 4 gigabytes of GDDR5 VRAM along with three DisplayPort 1.4 ports and one HDMI 2.0 connection. With this package, its bundled Thunderbolt 3 cable can supply up to 60 watts of power to an attached MacBook, versus the 45W that it supplied in the first version of the hardware.
Another selling point may be size. The Puck is no more than 6 inches long, 2 inches high, and 5.12 inches wide, while weighing about 3.3 pounds. That makes it relatively easy to stash away on a desk, or even in some backpacks and messenger bags. There is also an optional VESA mount, to attach it to the back of some monitors.
Apple is selling the hardware for $399.95. Some deliveries and pickups are expected to happen as soon as Monday, possibly a sign that outlets will have units on shelves the same day. Buyers must be running macOS 10.14.1 or later.
Where to buy