Dark mode, universal 'Undo' gestures touted to arrive in 'iOS 13'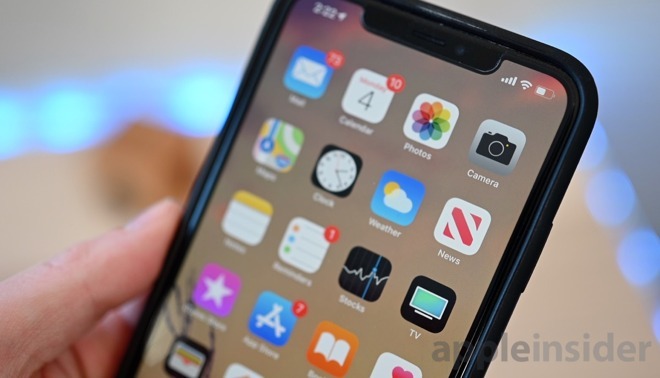 The next major release of iOS will join macOS in having a "dark mode," a report claims, with "iOS 13" also tipped to introduce increased multitasking options on iPad, font management changes, and a universal gesture to undo commands.
At the Worldwide Developer Conference 2019 on June 3, Apple is anticipated to offer a preview of the features it intends to introduce in future versions of its main operating systems. The biggest attraction will arguably be "iOS 13," which should ship this fall at around the same time as the 2019 iPhone refresh.
A highlight feature of the mobile operating system update will be a dark mode, which will trigger apps to display with darker backgrounds and lighter text and other elements, in a similar way to macOS, according to people "familiar" with its development who spoke to 9to5Mac. Changed in the Settings app, the mode will also include a high contrast version.
Apps that work on macOS as well as iOS via Marzipan will also benefit from offering dark mode on both platforms, with the app appearing in an identical way in each operating system.
Another major change is based around multitasking on iPad. Apps will be able to have multiple windows, which can be detached from their location using a drag gesture and moved around the iPad display, stacked to keep them tidy, and to be dismissed by being thrown away.
Adding fonts in iOS will be updated via the introduction of a font management panel in Settings, rather than relying on users to install a profile to import new fonts. Developers will be able to include a new font picker in their apps, while iOS will have a facility to warn users if the document contains fonts that are not already installed on the iPhone or iPad.
The Mail app will gain features that make it "smarter," including categorizing incoming messages into searchable subjects, as well as the ability for users to set messages to "read later." The app may also feature simplified collaboration with third-party document apps, in a similar fashion to how iOS treats documents used in Apple-produced apps.
Safari users will be able to set the browser to ask for a desktop version of websites on iPad, instead of viewing the mobile version by default.
The operating system will reportedly introduce new gestures, including a system-wide undo and redo command that consists of a three-finger tap on a keyboard followed by sliding left or right. Other gestures for selecting multiple items in table and collection views, dragging with multiple fingers, and others will also be included.
Other changes tipped for addition to "iOS 13" include an updated Reminders app, a refined volume interface, improvements to multilingual keyboard and dictation support, changes to in-app printing menus, and better rejection for misheard "Hey Siri" vocal prompts.
So far, it has been confirmed "iOS 13" will include a new batch of emoji, including extra hair and skin options, and stylized expressions.
Earlier reports that hinted at the inclusion of dark mode also suggested upgrades to how CarPlay operates, a new home screen for iPad, and the ability to tab through several versions of the same app.