2018 MacBook Air Retina display spec changed to 400 nits, but hardware is unchanged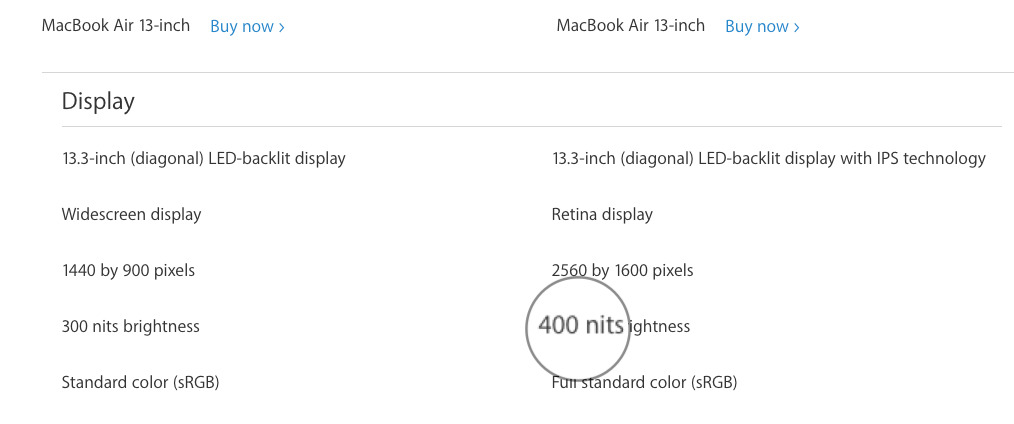 Apple has made a quiet change to the MacBook Air's specifications on its website, with an update to the Apple website revealing the 13-inch Retina-equipped model's panel has changed from 300 nits of brightness to 400 nits.
The most recent iteration of the MacBook Air was previously listed as having a 300-nit display, far below the 500 nits of brightness the MacBook Pro models are capable of outputting. However, the Compare tool on the Apple website shows there has been an unannounced change in the specifications for the MacBook Air with Retina.
Spotted by Reddit user "cheesepuff07," the compare tool lists the model as having a 400-nit panel instead of 300 nits. Earlier listings for the exact same comparison shows the same results, but with a 300 nit brightness for the model, indicating the change was made since March 29.
Sources within Apple have told AppleInsider that the posted specifications were updated in response to changes made in macOS 10.14.4. When pressed for what specific changes prompted the hardware spec revision on paper, Apple pointed us to the release notes for macOS that said that the release adjusted default screen brightness.
From a service standpoint, the screen part number is unchanged and there remains only one part for replacement. In regards to sales stock, there is no differentiation in MacBook Air models since release, both points strongly suggesting that the hardware has not changed.
AppleInsider has asked more questions of Apple, and will update should we get a response clarifying the matter.
The change in the specs appears to have only been made to the model with the Retina display, as the cheaper MacBook Air 13-inch with the "widescreen display" still lists its brightness at 300 nits.
One investigation discovered the MacBook Air's screen brightness was capped at 234 nits, far below the 300 claimed by Apple, lower than the 336 nits of brightness recorded for the previous generation, and considerably less than the MacBook Pro equivalents.