Apple outsells Samsung as iPhone tops US mobile activations chart for Q1 2019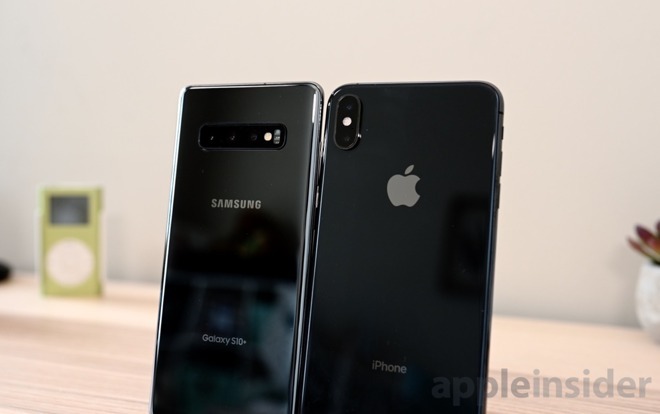 The iPhone was the most popular smartphone bought in the United States, according to figures produced by CIRP, with Apple narrowly beating Samsung for market share in the first quarter of 2019, suggesting Apple may see an improvement on its sales in its upcoming financial results.
Apple's main rival in the smartphone market is Samsung, with the two exchanging the top spot in smartphone sales quite regularly. Data from Consumer Intelligence Research Partners (CIRP) logging smartphone activations in the United States in the quarter ending in March suggests this time Apple has the upper hand.
In the data, Apple had the highest share of all smartphone brands in terms of activations, taking up 36 percent of the market. Samsung, the nearest competitor, made up 34 percent of device activations, while LG and Motorola have 11 percent and 10 percent shares respectively.
In the case of Apple, the percentage share of the market is up from 2018, but is still far behind the first quarters of 2017 and 2016, with the latter seeing Apple dominate with 40 percent of the market.
"Samsung has typically had the highest share, from 30 percent to 39 percent, depending on their product launch calendars," writes CIRP Partner and Co-Founder Mike Levin. "Apple share varied similarly, from 29 percent to 40 percent. The most notable trend has Motorola taking share from LG and threatening to take over third place in the smartphone market."
CIRP's data relates to percentage of market share by activations, so is not a direct indicator of how many iPhones Apple has shipped. The high rise in percentage from 2018 does however suggest Apple could see good financial results on April 30, though as Apple is a global company, it may not necessarily indicate success in other markets.
In the last financial results, while the main news was that China had negatively impacted revenues, the conference call to analysts revealed revenue in the United States in fact increased 5 percent year-on-year, bucking a downward trend shown by European, Japanese, and Chinese sales.
In the battle between iOS and Android, CIRP's data calculated Android as making up 64 percent of all US device activations for the quarter, compared to iOS with 34 percent.