Review: The G-Tech Mobile Pro SSD is nearly as fast as the storage in your 15-inch MacBook Pro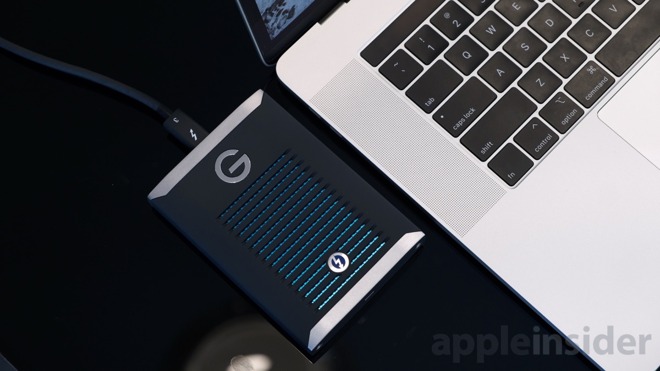 G-Technology Mobile Pro SSD
5.0 / 5
---
AppleInsider may earn an affiliate commission on purchases made through links on our site.
There are endless options when it comes to external storage, but getting the right one for you can be a tough task. If you're looking for a quick, on-the-go SSD, the G-Technology Mobile Pro SSD may be perfectly suited.
The G-Technology's Mobile Pro SSD features a Thunderbolt 3 connection and a fast NVME drive inside. If you're a video creator like a few of us at AppleInsider are, and you're looking for one of the best external SSD solutions, this should be your next pickup.
A fast-moving market
In 2019, storage prices have dropped significantly across the board, and with new technology and disk solutions hitting the shelves almost every month, there are lot of options to consider. Late in 2018 we took a look at Samsung's X5 which is also another Thunderbolt 3 external SSD solution, and as a big fan of its design and portability, we think G-Technology's Mobile Pro SSD has it beat when it comes to raw performance and looks.
The Mobile Pro SSD
The color scheme is subtle, with black and aluminum silver and a hint of teal inside the grill vents, which in our opinion, look amazing. The chassis itself feels durable and has a nice matte-like texture. G-Technology says that it features a 1000-pound crush-proof rating so you don't ever have to worry about messing up your new portable storage solution even in the worst scenarios.
The Mobile Pro SSD has one Thunderbolt 3 port at the top, and a tiny light indicator to let you know the drive is up and running at the bottom. Power is provided by the Thunderbolt 3 bus.
That sharp, electric blue colored aluminum casing inside these vents are a protective aluminum core that prevents overheating so that heat doesn't transfer to the outside of the case when you're editing huge 4K or even 8K files off this SSD. That's a really nice thing to have, especially if you're solely working off this external drive.
Performance
We've been editing a few of our videos off this new SSD, and while yes, we could be editing directly from our MacBook Pro, we like to have our files readily accessible. When we're on the move or if we need to jump to another machine, we have those files ready to go. So far, we haven't had any issues or playback issues in Final Cut Pro X or Adobe After Effects. Everything about it is blazing fast.
For the BlackMagic Disk Speed Test, we wanted to compare it against our 2018 MacBook Pro's internal drive as well as our trusty Samsung T3 we've around.
The G-Technology Mobile Pro SSD got around 2200MB/s to 2300MB/s on the write, and 2500MB/s on the read speed. That's two gigabytes a second which is ridiculous for an external storage solution. Our 2018 MacBook Pro's internal NVME SSD is a little bit faster at 2600MB/s for both the read and write speeds, however. While it's not getting that full 2800MB/s transfer rate that they promised, it's pretty close to that nonetheless.
Our older Samsung T3 is getting around 420MB/s for its read and write speeds, which is definitely more than enough for everyday tasks and editing 4K videos, but it's definitely nowhere near the speeds from G-Technology's Mobile Pro SSD.
Transferring 150GB of archived project files from the external drive to my desktop took a little bit over one minute, and from the desktop back to the SSD, it took a little bit longer, but it transferred those files in under two minutes. The Samsung T3 which uses USB 3.1 type C at 10 gbit/second maximum will take well over 15 minutes if I were to do the same task.
G-Technology's Mobile Pro SSD Thunderbolt 3 SSD is great for video editing as well. We edit most of our videos with Final Cut Pro X, and haven't run into any issues whatsoever. Loading project files and scrubbing through the timeline all worked well at 4K resolution — just make sure to transcode your media before editing, and you shouldn't run into any problems.
If you need some new external storage and you want something that is going to be blazing fast and takes advantage of the latest tech, we easily would recommend the G-Tech Mobile Pro SSD.
Rating: 5 out of 5
Where to buy
G-Technology's 1TB G-Drive can be ordered from third party resellers on Amazon with free shipping. MacMall also stocks the Thunderbolt 3 portable drive for $449.95, with units shipping the same business day.