Review: JBL's Endurance Peak wireless earbuds deliver excellent fit & sound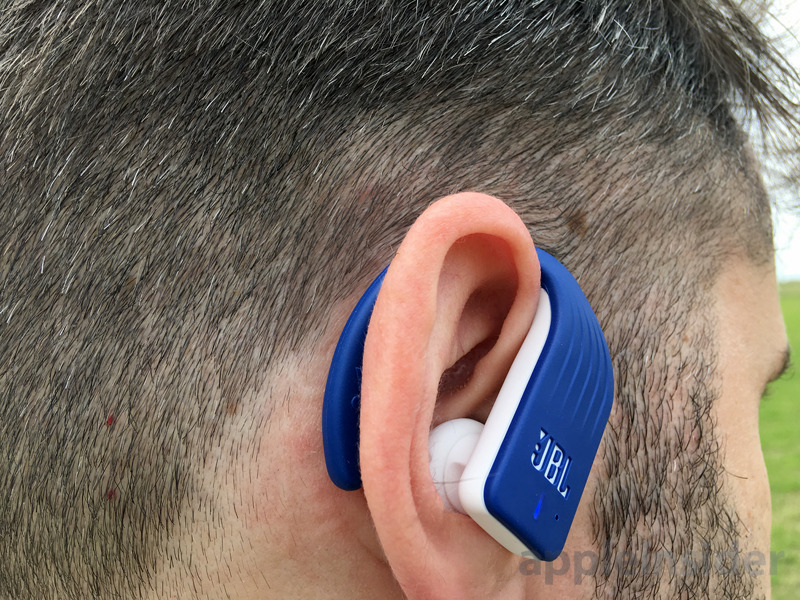 If you can look past its touch controls, the JBL Endurance Peak is a great balance of price, longevity, and audio quality amongst fully wireless earbuds.
For natural reasons, I've become AppleInsider's go-to guy for most fitness reviews — I'm in the gym three times per week, lifting for up to two hours at a time, so I'll punish any gear you throw at me.
That's proven especially true when it comes to headphones. Most just can't hack it at the gym I've found, at least in the long term — if it's not explicitly sweatproof, it inevitably shorts out. Even some that are sweatproof will eventually break.
I'm also a stickler for a secure fit. Every company promises their buds will never fall out, yet that's almost never true. Sometimes all it takes is a few pushups or bench presses.
When JBL announced the Endurance Peak it immediately caught my interest, mostly for the two reasons I just mentioned. It's not only sweatproof but IPX7-rated, so in theory it can survive a drenching in the rain or shower. Springy hooks, meanwhile, keep the buds locked firmly in place.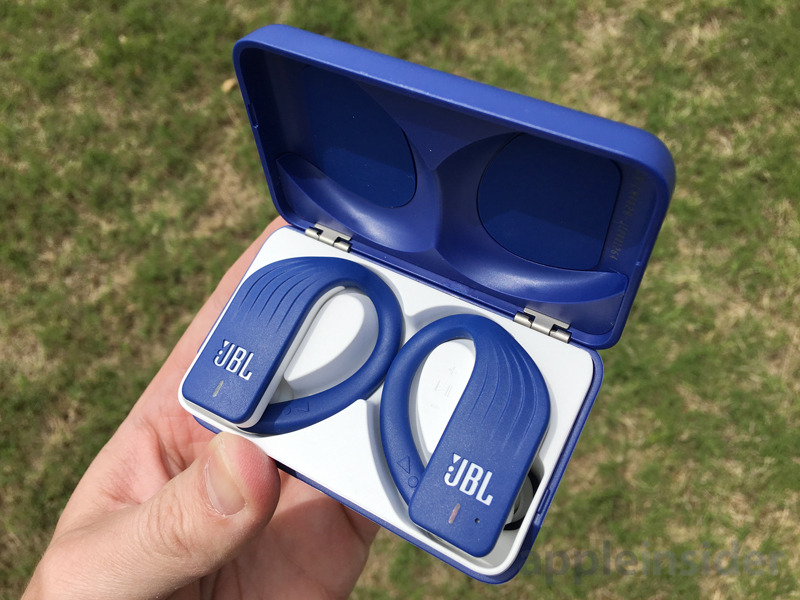 If you're used to Apple's AirPods, BeatsX, or Powerbeats, the Peak may prove a little spartan. There's no automatic first-time pairing, no Siri integration, and it comes bundled with just three sets of silicone tips, though I was lucky and found the default tips pretty snug. There aren't any built-in EQ functions, app-controlled or otherwise.
It's nothing to write home about aesthetically either. When I shared my initial hands-on, many commenters found the Peak cheap-looking or downright ugly. I disagree, but the design is certainly bulky and plain, and the blue/white model we were sent is a little garish. Thankfully there are black/gray and red/gray combinations.
What it lacks in style it makes up for in ergonomics and sound. The Peak manages to be both secure and comfortable — not once did I have to readjust because of pressure or slippage. When I did fiddle with an earpiece, it was to maximize bass.
In keeping with the JBL brand, the Peak sounds excellent. A tight fit ensures bass is heavy, and its frequency range brings out nuances you might miss with other workout buds — listening to Childish Gambino's "Feels Like Summer," I even caught lyrics that were previously unintelligible. It handled everything from power metal (like Sabaton) to industrial (like Nachtmahr) with aplomb.
There's no noise cancellation, but the buds do isolate the ear canal and perform an above-average job. I should know, since one of my top exercise priorities is blocking out my gym's continuous pop soundtrack. You just can't lift heavy listening to Bebe Rexha.
There are superior-sounding wireless buds — Jaybird's Tarah Pro comes to mind — but you'll be hard-pressed to find something better for the cost, especially if you want hooks. The Peak is actually cheaper than AirPods, and less than half the cost of Apple's upcoming Powerbeats Pro.
Drawbacks
The only significant downside to the Peak is its touch-sensitive controls. Theoretically these are simple: tap once to play/pause music or answer a call, double-tap to skip tracks or decline a call, and so on. In truth I found them unreliable, since you have to tap on just the right part of the bud to make them work, which becomes trial and error in some cases. I gave up entirely on JBL's swipe-based volume, using the crown on my Apple Watch instead.
Any other technical issues are minor. The buds have a 4-hour battery life, one less than AirPods, but that's unlikely to be an obstacle unless you're running a marathon or listening all day. The bundled charging case supplies an extra 24 hours, which should last a full month of training for people like myself.
I do wish JBL had gone with "smart" power. The buds don't automatically turn on when you remove them from the case or shut off when you pull the master bud from your ear. Instead this depends on flexing the right hook, which works well enough, but isn't as fluid as AirPods.
Set and forget
What I enjoyed most about the Peak was the ease of wearing it, control problems aside. Once the buds were on, I could genuinely forget about them — I knew they'd stay in and sound good at all times. It's hard to overstate how rare and essential that is for fitness gear.
For lifters and runners, this product should probably be on your short list unless you're willing to pay Powerbeats or over-the-ear prices. Everyone else may want to give them a chance, even if they turn elsewhere for style or certain conveniences.
Where to buy
JBL Endurance Peak earbuds are available from third-party sellers at Amazon for $119.95 with free shipping.