Samsung delays launch of Galaxy Fold after review unit screen failures [u]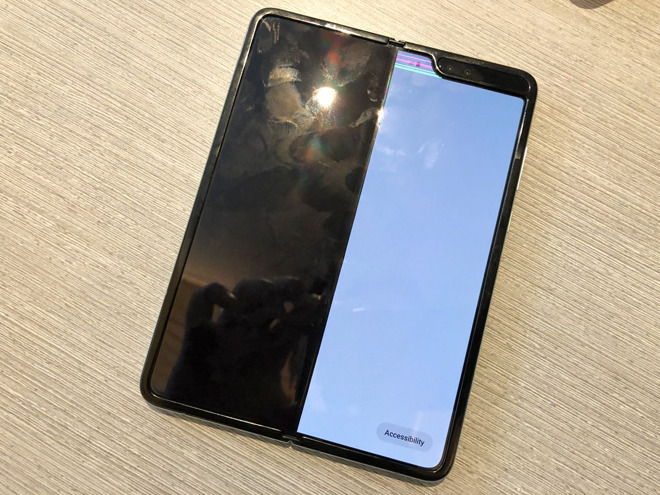 After cancelling launch events in China, Samsung has confirmed that is has delayed the U.S. Galaxy Fold smartphone debut until further notice, and is promising changes to make the screen stronger.
Samsung's Galaxy Fold was beset by problems that early reviewers discovered. While some reviewers had peeled off a part of the folding display, thinking it was a removable protective coat, others had more severe problems, like a protruding hinge, or broken screen.
Samsung has issued a statement to AppleInsider and other venues, discussing the delay.
Initial findings from the inspection of reported issues on the display showed that they could be associated with impact on the top and bottom exposed areas of the hinge. There was also an instance where substances found inside the device affected the display performance. We will take measures to strengthen the display protection. We will also enhance the guidance on care and use of the display including the protective layer so that our customers get the most out of their Galaxy Fold.
We plan to announce the release date in the coming weeks.
Samsung has said that it will revise the release date in the next few weeks. Whether the delay is on the order of weeks or months is not clear at present.
An internal investigation is currently underway but report sources claim the initial issues stem from the way the device's hinge operates, applying extra pressure to the internal screen when used. While some reviewers have publicly shown their devices failing because of the hinge, with other having problems relating to a flickering screen, not all reviewing outlets reported issues with the device.
The reports of found faults were made worse by a connected issue, where reviewers thought the display had a protective cover applied, similar to ones applied to inflexible displays to protect the glass. In the case of the Galaxy Fold, what was believed to be a covering layer turned out to be the top layer of the display, with reviewers unwittingly ruining the display when attempting to take it off the screen.
Samsung plans to warn consumers not to remove the display's top layer.