How to protect yourself against calls from fake Apple support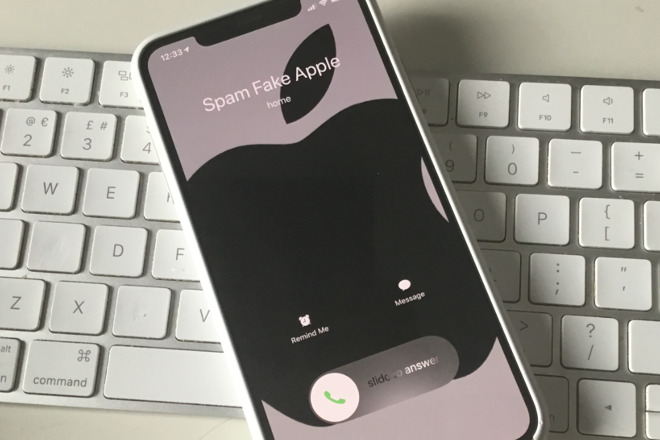 AppleInsider may earn an affiliate commission on purchases made through links on our site.
Calls from bogus Apple support representatives are on the rise. Scam-artists are using Apple's name, and spoofing phone numbers, in order to phish for personal details from customers. There are occasions when Apple will phone you, but it won't be about your iCloud account.
First of all, we'll say this up front. You can't stop fake calls. You can only protect yourself from them, with some knowledge about when you will get a call from Apple, and when you won't.
It is possible that someone genuinely from Apple will phone you, but you should always know in advance that it's going to happen or is likely. If you instead get a completely unexpected call purporting to be from them, it is a fake and you should hang up — but more on that in a bit.
There is one time that you will definitely get a real call from Apple, and one situation where it's likely. That one time is when you've requested it via Apple's online support.
In the case of a call from Apple support, you will have given them your number and at least some details of whatever problem you're having, and the initial call will be made very soon, sometimes instantly.
As the support person works through your problem, it may be that they need to call you back again at a later time, but the initial call will always have been requested by you.
The only other situation where it's likely you'll get a call, but not definite, is when you have placed a substantial order for Apple devices online. This call will be from Apple Sales or from some other Apple representative, but it will specifically be about that order and confirming that it is really you who placed it.
There are no other circumstances in which Apple will call any regular individual or business customer asking for information. And, there are no circumstances at all in which anyone from Apple will phone about any kind of iCloud "account corruption" such as AppleInsider staff has been told lately.
If you get a call from Apple and you are in any doubt about its authenticity, hang up. It's possible now that spammers will also spoof the phone number they're dialling from. So even if, for instance, you happen to know that 1-800-275-2273 is Apple's main US number and that's what you see on your iPhone screen, don't believe that the call is real.
Instead, when you've hung up, manually dial that number or whichever is the correct one for your country and region. Apple maintains a complete list of all its phone numbers online. That way you know you'll get Apple, instead of somebody in a dank call center trying to steal your information.