Xiaomi takes offense at smartphone estimates off by 2.5M units, Apple doesn't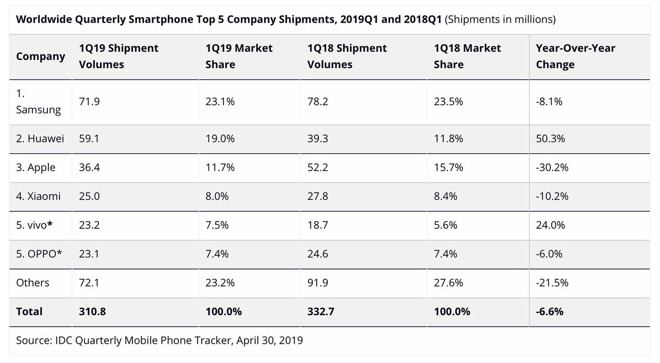 AppleInsider may earn an affiliate commission on purchases made through links on our site.
Xiaomi took the unusual step of reporting its smartphone shipments for the March quarter, which it issued in response to phone shipment data it said was "inaccurate and unfair, and deviates from our actual performance in terms of shipment of smartphones." Apple neither reported iPhone units nor took issue with IDC's data, despite its shipments clearly being undercounted by a margin more than twice as large.
Xiaomi didn't specifically name IDC as the "certain market research institutions" it felt compelled to challenge, but its characterization suggests that's who the phone maker was aiming its correction at, with the stated intent to "protect investors from any misleading information."
Xiaomi's statement said its shipments "exceeded 27.5 million" smartphones in Q1, compared to 25 million estimated by IDC. The difference between the two numbers is 2.5 million phones. It also changes IDC's math, which stated that Xiaomi's sales had dropped by 10.2% over the year ago quarter, rather than remaining effectively flat.
Canalys also issued a statement noting that its own estimates for Xiaomi were very close to the figure the phone maker gave: 27.8 million units. Canalys stated that it "wants to make it absolutely clear that it was not the company responsible for the inaccurate data and that its reputation remains unblemished."
IDC's iPhone estimate was far less accurate, Apple didn't care
AppleInsider earlier reported that analyst Neil Cybart of Above Avalon had also called IDC's parallel estimate of Apple's iPhone sales 'highly inaccurate' to the point of 'embarrassing.'
IDC reported just 36.4 million iPhone sales in the quarter, compared to Cybart's model of 43 million, and Canalys' estimate of 40.2 million. Apple stopped reporting its official unit shipments, but IDC's figures were statistically "impossible" given Apple's official statement of iPhone revenues. They also differed from Cybart's data by an incredible 6.6 million iPhones— or about $4.8 billion worth of devices— nearly as much as Apple Park supposedly cost to build.
Where the rules are made up and the points don't matter
IDC's iPhone estimate differed from others' by a margin of as much as 2.6 times times larger than the figure Xiaomi felt compelled to challenge in public, but Apple did not respond to IDC's estimates to "protect investors from any misleading information."
Apple does not appear to have ever corrected IDC's figures, even when they have been clearly wrong. Apple has, however, frequently cited IDC's numbers as being authoritative in its public events and in earnings calls.
Correcting IDC's figures wouldn't change the ranking order of smartphone makers by unit volume, as Samsung and Huawei shipped far more, albeit much lower-end phones, than third place Apple, and Xiaomi would still remain in fourth place— as long as Vivo and Oppo are counted as separate brands; the two are actually owned by the same company. It's not clear why market research groups treat them as competitors.
However, adjusting the two numbers that are known to be off by millions of units does make Apple's percentage of change in shipments over the year-ago quarter far less dramatic, and virtually erases Xiaomi's drop. That raises some serious questions about everything we think we know about the smartphone market. Are global sales even contracting at all? Are things worse that we're told?
The actual economic data that would explain what's truly happening in the industry is missing from IDC's public estimates entirely. In terms of revenues and profits, Apple is not even in the same category as Android licensees.
Apple makes virtually all of the profits earned in smartphones, and its iPhone revenues alone are consistently higher than even "first place" Samsung's entire Mobile IM unit, which sells not just smartphones but all of the company's PCs, tablets, Chromebooks, and Gear watches.
Apple reported $31 billion in iPhone revenues alone in the last quarter, total revenues of $58 billion, and $11.6 billion in profits comparable to Samsung's equivalent Mobil IM consumer electronics segment, which reported revenues of $22.26 billion and profits of $1.95 billion (when also adding in its networking equipment business). The entire Samsung Electronics, including its display and semiconductor business, TVs and other home appliances, reported total revenues of $45 billion and profits of $5.35 billion.
By focusing only on unit sales, IDC can suggest that Apple is trailing various Android licensees in the phone business, a tactic is has also pursued in tablets, in PCs, and in watches.