Mozilla issues Firefox fix following weekend of extension woes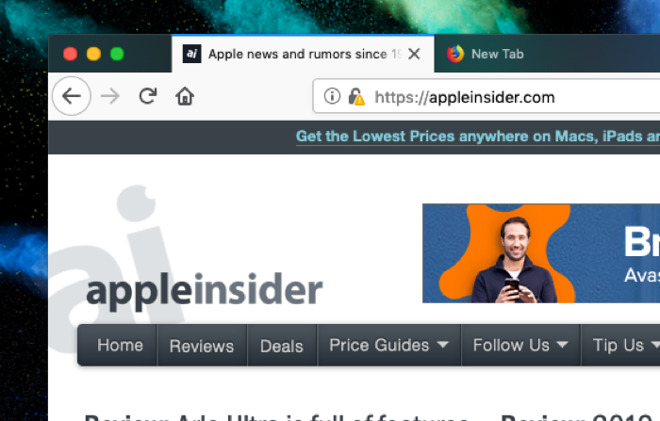 AppleInsider may earn an affiliate commission on purchases made through links on our site.
Mozilla is recovering from a few days of browser extension failures in Firefox, a problem caused by an expired signing certificate that the company has fixed for users of the current release of the browser — but not for those on legacy versions.
On Friday, a large number of Firefox users discovered some add-ons that previously worked fine were no longer functional. Attempts to download new extensions from Firefox's online archives also failed to install successfully, leaving many users unhappy with their browser not functioning how it normally would.
An addition to a post on changes in add-on policies reveals a certificate expired on May 3, causing the extension failures. A follow-up post on May 4 advises the issue was identified and a temporary fix rolled out to all Firefox Desktop users on the Release, Beta, and Nightly builds, which would be automatically applied in the background within 24 hours.
Mozilla warned users they did not need to take any active steps for the fix to take place, and to not delete or reinstall any add-ons, as this may disassociate data relating to the app. As the temporary fix used Firefox's Studies system, it may not have worked for users who disabled the feature under the "Data Collection and Use" section of the "Privacy & Security" menu within the browser's Options tab.
A general fix for the issue that doesn't require the use of the Studies system was also issued as a full release, bringing the browser to version 66.0.4. Mozilla admits the full update still leaves some remaining issues, but wanted to get the fix out by Monday to "lessen the impact of disabled add-ons before the start of the week."
While the fix will help those using the most recent version of the browser, legacy users have complained that, as they are resisting going to version 66 of the software, they won't benefit from the fix at all. Engadget reports some users are threatening to find other solutions like switching to another browser if Mozilla does not issue a fix for older versions.
The legacy users use the earlier releases for a variety of reasons, such as being limited to them by using older versions of operating systems, or if there is an extension that works with earlier versions but won't function with newer releases.
Mozilla has yet to advise on how they would help legacy Firefox users, if at all.