App Store, iTunes Store, Mac App Store outage affecting small number of users [u: resolved]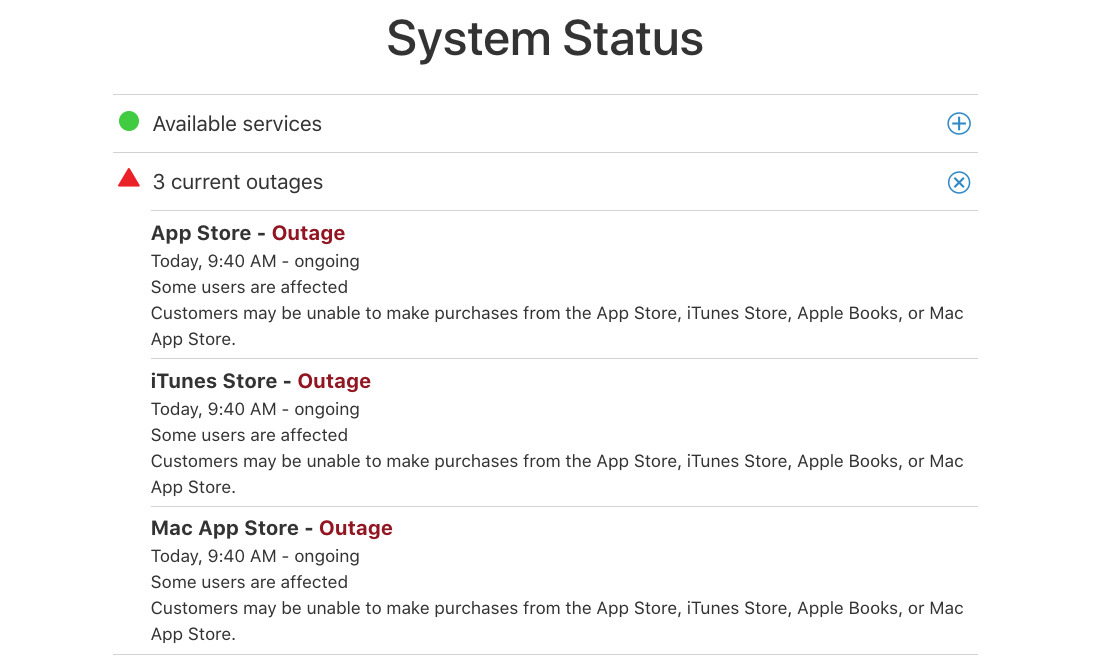 Apple is currently enduring an outage of the App Store, iTunes Store, and Mac App Store, with a small number of users unable to access or make purchases within each of the digital storefronts for the moment.
According to Apple's System Status page, there are currently three confirmed outages among all of the cloud-based services Apple operates. The three specifically relate to the iTunes Store, App Store, and Mac App Store, with the issue appearing to be linked between them all.
The page notes that "Some users are affected" by the outage, which is described as "Customers may be unable to make purchases from the App Store, iTunes Store, Apple Books, or Mac App Store." Interestingly the status icon for Apple Books shows it as "Available" and unaffected by the outage.
It is unclear exactly how many customers are affected by the outage, but some reports are surfacing on Twitter and other social media that they are unable to access each of the storefronts at this time. The status page also advises it has been ongoing since 1:40am Pacific, 4:40am Eastern, and 9:40am BST, but the relatively low quantity of reports in that time suggest relatively few people are ultimately affected by the outage.
AppleInsider has contacted Apple for clarification on the outage, and when to expect a full restoration of service to all users.
Update: According to the System Status page, the issue has been resolved for all of the stores as of 9:52am Pacific, 12:52pm Eastern, 5:52pm BST.