Apple Watch Series 4 screen declared 'Display of the Year'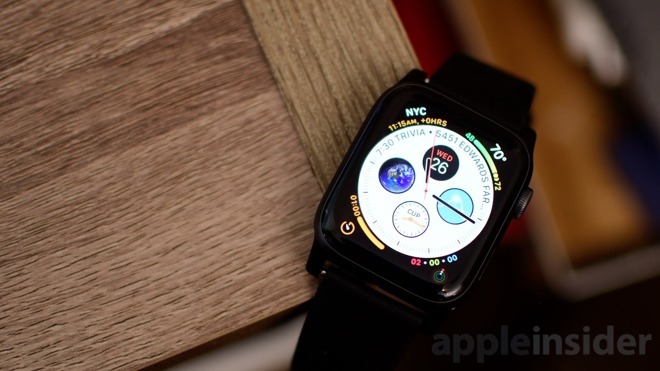 Apple is being honored as a winner in the 25th Display Industry Awards, receiving the accolade of "Display of the Year" for the LTPO OLED screen used in the Apple Watch Series 4, as one of three winners for pushing the display industry forward with outstanding features.
Presented by the Society for Information Display, the Display Industry Awards are presented to product vendors and component producers for creating outstanding screens and display panels, as well as innovative uses of displays in a variety of different fields.
"Display of the Year" is granted to multiple winners with "the most significant technological advances and/or outstanding features," with the Apple Watch Series 4 identified as one of the three to be granted the title in 2019.
Declaring it a striking display, SID calls it "the defining feature of Apple Watch," in part due to the design challenge of making "the display bigger without noticeably increasing the size of the case or compromising the battery." In doing so, the narrow borders helped increase the display size by more than 30 percent compared to the Series 3.
Also helping with the achievement is the use of low-temperature polycrystalline oxid (LTPO), an OLED backplane technology developed by Apple that helps increase power efficiency, allowing the Apple Watch's battery to last throughout a user's day.
Apple is joined as a winner of Display of the Year by Samsung for its modular microLED display called "The Wall," and Sony's Crystal LED Display System.
The Display Industry Awards consider products released in the previous calendar year, and selects a total of seven winners across three categories. Winners are selected by a "distinguished panel of experts" examining the degree of technical innovation, commercial significance, and their potential for positive social impact.
In 2018, Apple won two awards, with the iPad Pro screens named as Displays of the Year for its ProMotion technology, while the iPhone X's edge-to-edge design was celebrated in the "Display Applications of the Year" category.
The Display Industry Awards Luncheon will be held on May 15 as part of Display Week, to be held this year at the San Jose Convention McEnery Center from May 12 until May 17.