Adobe accepting applications to beta test Photoshop CC on iPad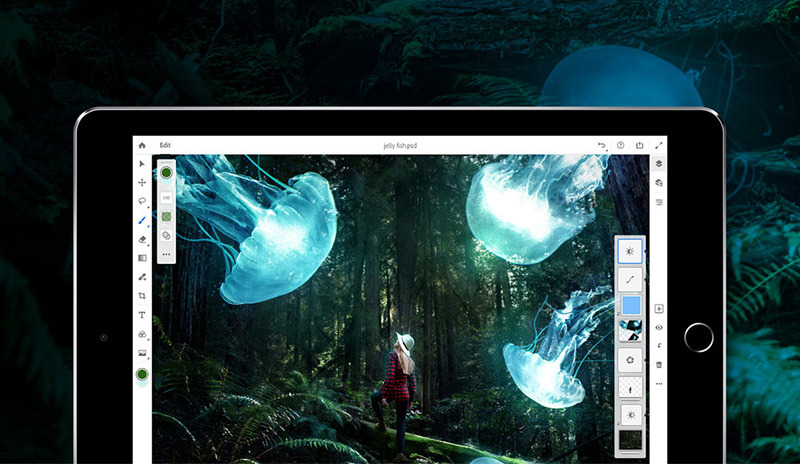 Adobe on Monday announced it is accepting applications to a beta program for its upcoming Photoshop CC for iPad app, a hotly anticipated version of the company's flagship photographic editing tool expected to debut later this year.
Invitations for access to the evaluation software version are currently being sent out in emails to existing Creative Cloud customers. Recipients are presented a link to a Google Forms page, which asks users for an email address, full name and explanation as to why they are interested in testing Photoshop on iPad.
Unveiled at Adobe's MAX 2018 conference in October, Photoshop CC for iPad is touted as a "real" Photoshop experience that goes well beyond previously marketed "light" mobile versions.
For example, Adobe reimagined Photoshop's user interface to take advantage of iPad's form factor, touchscreen and Apple Pencil support. A panel with popular tools including brush, eraser, gradient, marquee, text and crop appear on the left side of the screen, while a minimal layer pane occupies the right. Instead of keyboard-and-mouse controls, a context-aware UI presents relevant options, modifiers and sub-menus specific to each of the app's image editing tools.
Further, because Photoshop CC on iPad is built on the same codebase as Photoshop CC on desktop, the app supports PSD files, layers, advanced compositing, masking and other familiar features. Alongside the ability to "roundtrip" a project from iPad to Mac, or from Mac to iPad, users can choose to automatically sync work progress between tablet and desktop.
Adobe's long-awaited Photoshop solution was later hyped by Apple in an onstage demo during last year's iPad Pro launch.
Photoshop CC on iPad is slated for release later this year.