Eight-core 2019 15-inch MacBook Pro crushes mid-2018 model in benchmarks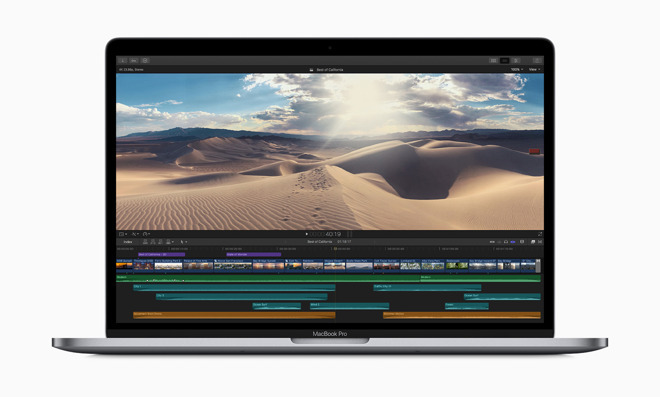 An initial benchmark of Apple's updated 15-inch MacBook Pro with an eight-core processor indicates the 2019 revision of the highest-specification model offers considerable improvements on the 2018 equivalent, especially in multi-core performance.
On Tuesday, Apple updated the MacBook Pro lineup with 8th and 9th-generation Intel Core processors, including changes to the 13-inch and 15-inch lineups. The highlight change is a 15-inch MacBook pro that uses the Core i9-9980HK, an 8-core processor clocked at 4.8GHz.
Benchmarks published to Geekbench on Thursday for the "MacBookPro15,3," believed to be the new model, reveals the new processor has given a significant boost to overall system performance. According to the results, its single core test score was 5879, which is a 9.9% gain from the 5348 of the Mid-2018 15-inch MacBook Pro, which used the six-core Intel Core i9-8950HK.
The increase from six cores to eight also made a predictable improvement to the multi-core test results, with the new model achieving 29,184 versus 22620 for 2018, a boost of 29% year-on-year.
According to the system information of the published results, the Mac in question was running macOS 10.14.5, and was equipped with 32 gigabytes of 2400MHz DDR4 memory.
The refreshed high-end 15-inch MacBook Pro starts from $2,799, and is equipped with 2280 by 1800 P3 Wide Color Gamut displays offering 500 nits of brightness and TrueTone support. Options are available for 16GB or 32GB of RAM, between 512GB and 4TB of SSD storage, and either Radeon Pro 560X or Vega 20 graphics with up to 4GB of HBM2 memory.
AppleInsider will be testing the thermal environment of the new high-end MacBook Pro in the next week.