Over 100,000 live radio stations, user profiles coming to HomePod with iOS 13
By Andrew O'Hara
Monday, June 03, 2019, 11:10 am PT (02:10 pm ET)
Apple is bringing live radio from a number of sources to iOS 13 with easy access via Siri.


Over 100,000 live radio stations coming with iOS 13



During Apple's annual developer conference, Apple has announced the support for live radio coming to iOS. With support for iHeartRadio, TunIn, and Radio.com, users will have access to over 100,000 different stations.

Users can easily tune in just by asking Siri to listen to their favorite station.

Apple also declared that the HomePod will support user identification as well.

AppleInsider will be reporting live throughout WWDC 2019, starting with the keynote on Monday, June 3. Get every announcement as it happens by downloading the AppleInsider app for iOS, and by making sure to follow us on YouTube, Twitter @appleinsider, Facebook and Instagram.
Unbeatable Deals from AppleInsider & Apple's Top Authorized Resellers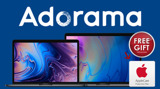 SAVE $379.00 - Free AppleCare with these 2019 MacBook Pros
Lowest Prices Anywhere!