Pixelmator Photo, Asphalt 9: Legends among 2019 Apple Design Award winners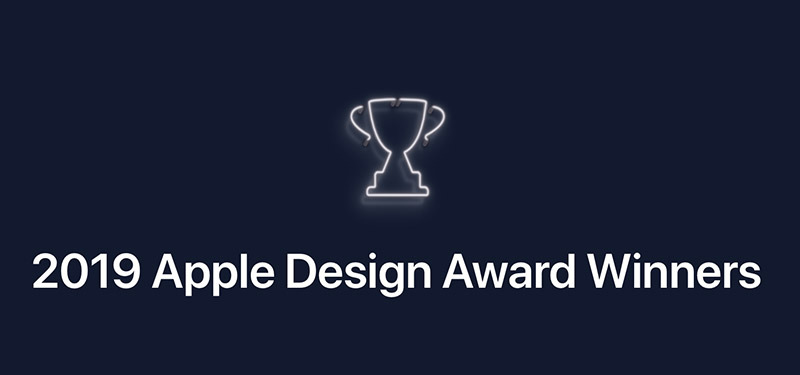 Following Monday's Worldwide Developers Conference keynote, Apple held its annual Design Award ceremony in San Jose, crowning a handful of outstanding iPhone, iPad and Mac apps with the coveted trophy.
This year, all but one Apple Design Award went to iOS titles, with the lone Mac winner also available on iPhone and iPad. Previous years saw ADAs go out to watchOS and tvOS apps, but those platforms were not represented in 2019.
In total, Apple handed out nine awards from a variety of App Store genres. As expected, games account for more than half of the winners.
Ordia (Loju LTD - England)
Available on iPhone and iPad
An action platformer with a simple one-finger control scheme, Ordia combines striking graphics with a unique play style. Players fling themselves from one dot to another while avoiding increasingly complex obstacles.
Available on iPhone and iPad
A note-taking app developed by the vaunted Moleskine brand, Flow features an elegant design that lets users focus on their notes rather than being inundated by an obtrusive user interface.
Available on iPhone, iPad, and Mac
Described as a surreal puzzler, The Gardens Between tells the tale of two best friends through a well-written narrative experience. Game mechanics allow players to manipulate time.
Available on iPhone and iPad
The lauded arcade racing game continues to rack up accolades with stunning graphics, responsive controls, fast gameplay and an overall polished presentation. Apple notes the latest title pushes the boundaries of hardware performance.
The long-awaited Pixelmator Photo launched in April, delivering a powerful, portable image editing solution worthy of the Pixelmator name. Through clever design and a burly graphics engine with machine learning editing tools, the app is easy enough for beginners, but can be pushed by professionals.
ELOH (Broken Rules - Austria)
Available on iPhone and iPad
A puzzle game that combines rhythm, physics and challenging level design to achieve a unique experience. Apple gives a nod to ELOH's hand-painted graphics and "earthy" soundtrack.
Available on iPhone and iPad
Butterfly iQ is a CE-approved and FDA-cleared app that pairs with a supported device to make whole-body ultrasounds portable.
Available on iPhone and iPad
A cult classic, Thumper is a rhythm game that incorporates fast music with equally fast gameplay.
Available on iPhone and iPad
An app designed for enhancing basketball practice through AI-powered shot tracking, advice from coaches and connectivity with other users.
All ADA winners receive an iMac Pro, MacBook Pro, 12.9-inch iPad Pro with Apple Pencil, 512GB iPhone XS, Apple Watch Series 4, 64GB Apple TV 4K and AirPods. Along with the trophy, developers will see their app featured in a special section of the App Store.