The Apple Park 'spaceship' uses 692 steel saucers to protect against earthquakes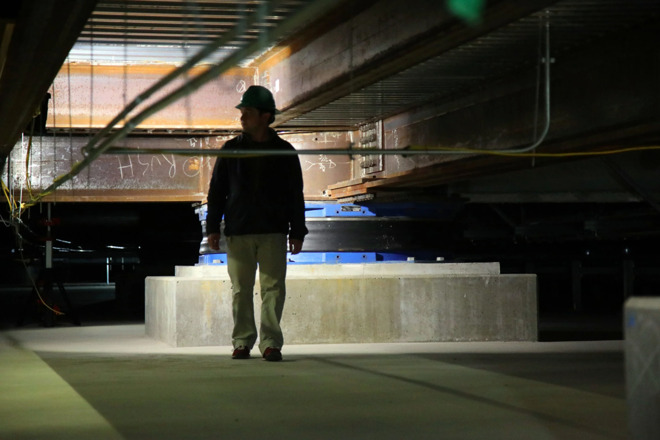 AppleInsider may earn an affiliate commission on purchases made through links on our site.
The main ring at Apple Park is one of the few buildings in the entire U.S. to use base isolation against earthquakes — meaning that it should survive all but the biggest California tremors.
The isolation system consists of 692 large, stainless-steel saucers located two stories underground, the New York Times revealed on Tuesday. Should a quake strike, the saucers can shift as far as 4 feet in any given direction.
Selected by Apple co-founder Steve Jobs and design Jony Ive, the system is modeled after similar ones in Japan. Japan has about 9,000 buildings with some version of base isolation, since the country is regularly rocked by quakes that can cause massive death and destruction. The 2011 Tohoku earthquake, coinciding with the launch of the iPad 2 on March 11, killed some 15,897 people and triggered the Fukushima Daiichi nuclear disaster.
Jobs was inspired by Japanese engineering, Ive told the Times. In fact Ive has reportedly spent four years renovating his own San Fransisco home to protect against quakes, which may make it more resilient than some of the city's skyscrapers.
Apple is one of the few Silicon Valley businesses to have any kind of earthquake-proofing, warned structural engineer Evan Reis.
"A lot of Silicon Valley companies, whether they are startups or established companies, are in buildings from the 1970s and 1980s that don't meet current code requirements," he said. Construction of Apple Park began in November 2013.
Much of California runs along the San Andreas Fault, and San Francisco Bay Area is especially vulnerable, having not one but seven major fault lines. Were the Bay to see a repeat of the infamous 7.8 quake in 1906 it would have catastrophic human and economic effects, given that the combined San Jose, San Francisco, and Oakland area has swollen to over 8.8 million people — many of them forming the core of multinational tech giants like Apple, Google, and Facebook. The collapse of Apple Park alone would potentially kill thousands of people, including executives like Ive and CEO Tim Cook.