AMD Radeon RX 5700 series launches with 7nm GPUs, up to 10.14 teraflops of performance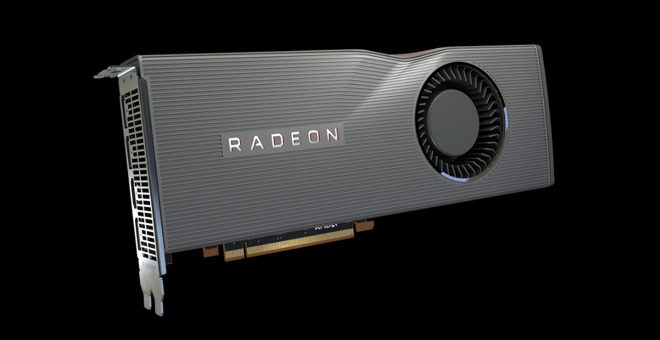 AppleInsider may earn an affiliate commission on purchases made through links on our site.
AMD has launched three new cards in its Radeon RX 5000 range that all use 7-nanometer processes for the GPU, with the Radeon RX5700, XT, and 50th Anniversary Edition providing over 10 teraflops of performance as a more value-oriented alternative to the Vega cards.
Launched two weeks after AMD first teased the RX 5000 series at Computex, the RX 5700 series consists of three cards that are built using AMD's RDNA gaming architecture and use the Navi GPU family. Navi was previously advised as being a refined version of Vega that offers 25% better performance per clock and a 50% improvement per watt of power used, via AMD's usage of a 7-nanometer production process.
The three cards start off with the Radeon RX5700, which offers 36 compute units, 2,304 stream processors, and 8GB of GDDR6 memory. With a base clock of 1.465GHz rising to 1.625 as its "game clock" and up to 1.725 when boosted, the card is said to provide up to 7.95 teraflops of performance.
The middle card in the range is the RX5700XT, which ups the compute units to 40 and the stream processors to 2,560, while using the same memory. The clock speeds are increased to 1.605GHz, 1.755GHz, and 1.905GHz for base, game, and boosted respectively, and it can offer 9.75 teraflops to users.
The third card is the Radon RX 5700 XT 50th Anniversary Edition, which offers the same compute units, stream processors, and memory quantity as the RX 5700 XT. The difference is in the clock speeds, with each pushed to 1,68GHz, 1.83GHz, and 1.98GHz, resulting in a maximum performance of up to 10.14 teraflops for that specific card.
All of the cards also have Radeon Anti-Lag to reduce input-to-display response times by up to 31 percent, DisplayPort 1.4 with Display Stream Compression for up to 8K-resolution HDR video running at 60Hz or 4K HDR at up to 144Hz, and Radeon Image Sharpening. The cards are also the first to support PCIe 4.0, enabling them to work with new motherboards using the standard.
The new cards are aimed at more day-to-day users, so are not to be expected to be directly compared with the Radeon Pro Vega II and Duo MPX modules announced with the Mac Pro. Those cards, designed for high-performance workloads, offer up to 14 teraflops of performance 64 compute units, and 4,096 stream processors per GPU, and are equipped with 32 gigabytes of the better-performing HBM2.
AMD will start shipping the RX 5700 cards from July 7, priced at $379 for the RX 5700, $449 for the RX 5700 XT, and $499 for the 50th anniversary edition.