Review: Satechi M1 wireless mouse gets the aluminum treatment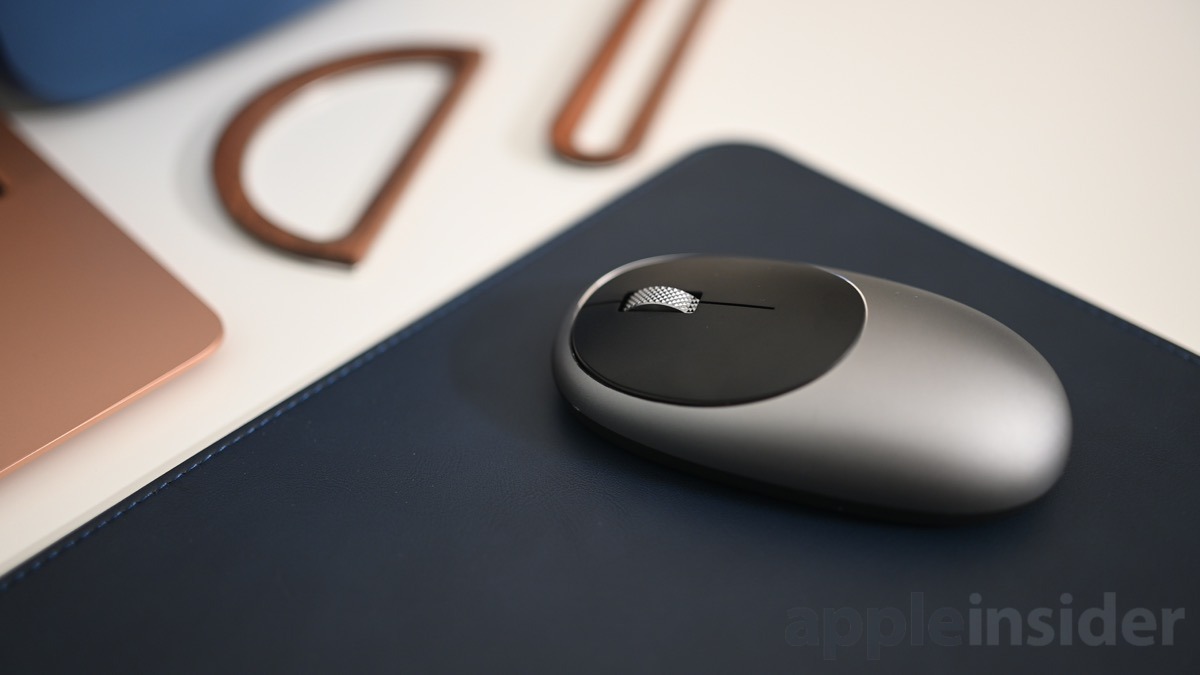 AppleInsider is supported by its audience and may earn commission as an Amazon Associate and affiliate partner on qualifying purchases. These affiliate partnerships do not influence our editorial content.
Satechi has given the aluminum treatment to every accessory under the sun from headphones to mousepads. An aluminum mouse was an appropriate extension of that design aesthetic — hence the Satechi M1. This mouse is a simple, sleek mouse that is made primarily from lightweight anodized aluminum and comes in four different finishes to match your Mac.
The Satechi M1 mouse itself has aluminum all around minus a small patch on the top. This cutout, which is black or white plastic depending on your primary color choice, is where the scroll wheel is located and allows the Bluetooth signal to pass through. The plastic portion is also the part that moves when right or left clicking the mouse buttons.
There is a knurled texture to the aluminum scroll wheel surface, which does feel easier to grip than a smooth surface.
The most direct comparison to the Satechi M1 wireless mouse is possibly Apple's since-replaced Mighty Mouse. They both have the same curved oval design that feels better in the hand than the flat design favored by Apple's current Magic Mouse and Magic Mouse 2. It has a slightly lower profile to that of the Mighty Mouse, but otherwise feels very similar.
Perhaps the best aspect of the M1 mouse's design is the placement of the USB-C port. Apple took a great deal of criticism regarding the Magic Mouse 2 and the decision to place the charging port on the underside of the mouse, requiring users to to upend the mouse while it charged.
Thanks to the obvious placement at the front of the M1, users can use both charge and use the M1 simultaneously. And, this is the way it should be.
M1 uses standard optical tracking for monitoring movements. There seems to be no jumping as we move the mouse though this isn't a gaming mouse so that level of accuracy shouldn't be expected. It is on par with any other standard mouse from Logitech, Microsoft, or Apple. It will work on most surfaces, same as any mouse. We used ours though with Satechi's new eco-Leather DeskMate that is made of faux leather and has a great premium feel.
The Satechi M1 Bluetooth wireless mouse comes in four colorways — gold, rose gold, silver, space grey — all designed to match Apple's lineup of Macs.
Apple's Mighty Mouse can be decisive with its ill-placed charging port, slim profile, and high price tag so Satechi's M1 is a nice premium alternative to complement Apple's designs.
We do wonder how the M1 will hold up over time being made entirely of aluminum. In our experience, even Apple's own Magic Mouse and Magic Mouse 2 exhibit some level of pitting along the sides from the repeated contact with the oils in one's fingers. That, however, can take years to happen and we've only been using it a few weeks, so time will tell how it holds up. If we see something we don't like, we'll let you know.
Rating: 4 out of 5
Where to buy
You can grab the Satachi M1 wireless Bluetooth aluminum mouse in a variety of anodized colors on Amazon or Satechi's website for $29.