Review: Bose Frames take a stab at iPhone-connected audio sunglasses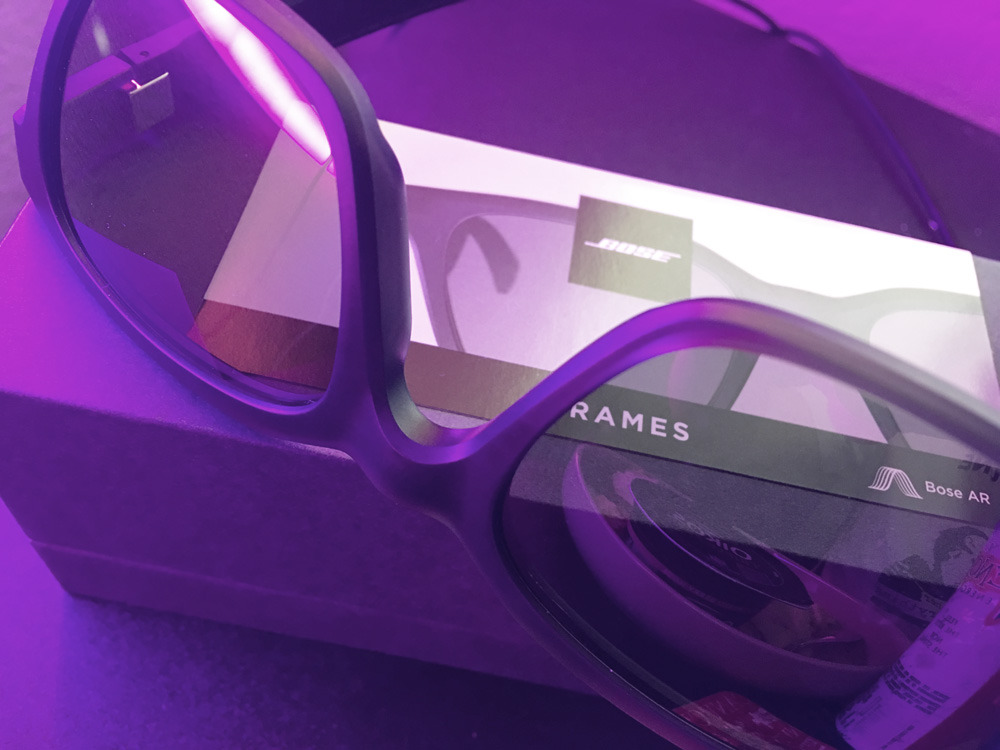 AppleInsider is supported by its audience and may earn commission as an Amazon Associate and affiliate partner on qualifying purchases. These affiliate partnerships do not influence our editorial content.
Bose's iPhone-connected Frames are a solid first step into the "audio glasses" market, and possibly worth your money — but there are catches to consider with this early tech.
I can't remember when exactly, but at a certain point in my career a boss once decreed that we just wouldn't cover (most) Bluetooth speakers anymore. What was once bleeding-edge technology had become omnipresent — we would've been writing about them all day. To lift the curtain a little bit further, the only Bluetooth speakers we cover here at AppleInsider are those from Apple or other well-known brands, and of special interest like Devialet's Phantom Reactor.
The Frames slot neatly into these rules, so here we are. On a fundamental level they're a pair of mid-range sunglasses with compact Bose speakers in each arm. They're not bone-conducting, but rather angled to fire into your ear canals.
Why would you buy Frames instead of dedicated headphones? Simplicity, in a word. It's one accessory instead of two, and when you're on the go, there's no need to fish earbuds out of your pocket.
Bose sells two styles, the Alto and the Rondo. I tried the Alto, a conventional "square" look. This will probably be the default for most people, but the Rondo may be more appealing for some wearers, especially those with smaller head sizes. I found that the Alto fit well and with style — the added thickness of its arms was mostly masked by a clever design.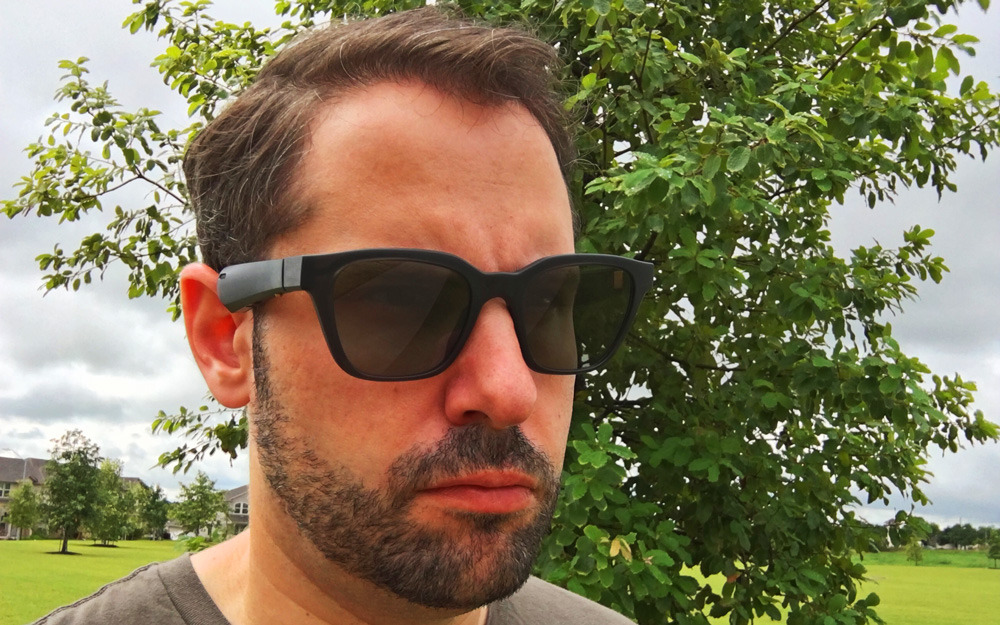 You can pair the Frames like conventional Bluetooth headphones if you like, but ideally you're meant to use the Bose Connect iPhone app. This lets you tweak settings such as voice prompts and a standby timer, the latter so that you don't accidentally drain the battery. I'd recommend going with a short standby since it doesn't take long to power back up.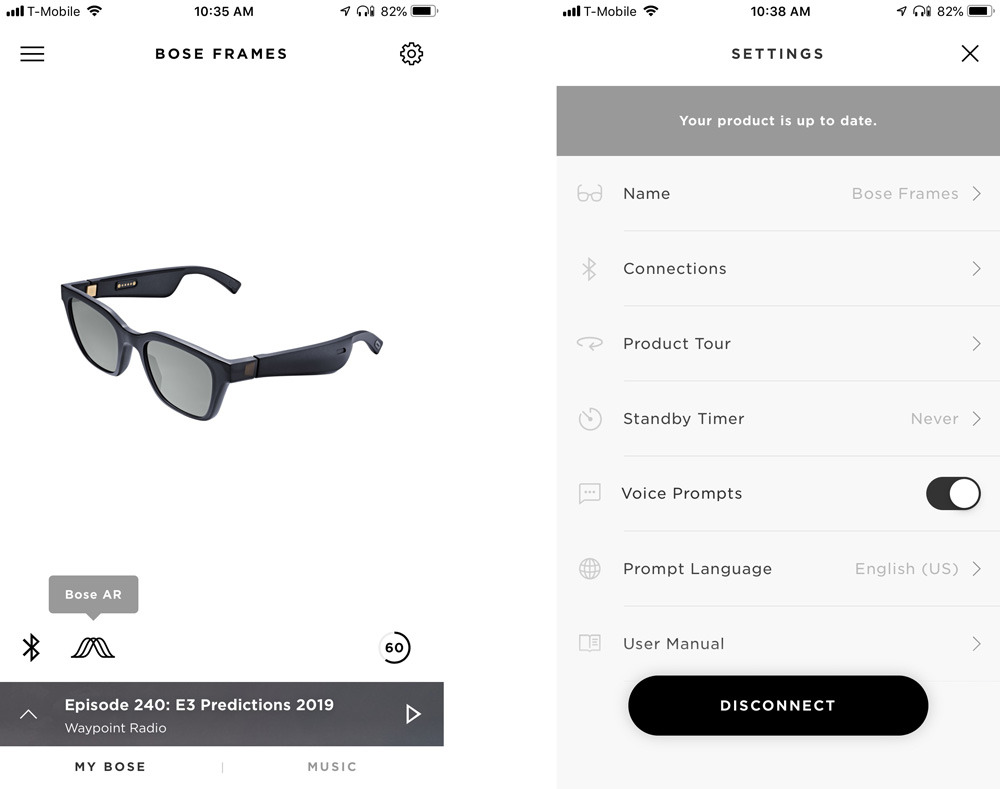 That being said, Bose has wisely included motion sensors that shut off the Frames when they've been flipped upside-down for 2 seconds. To power on, you press a multifunction button on the right arm.
That button is both a blessing and a curse of Bose's design. It adds a lot to the pickup-and-go quality of the product, since it's easy to find and tap without fumbling. Once the Frames are on you just press the button once to play and pause, twice to skip forward, and three times to skip back. It's likewise easy to answer or reject incoming calls, and you can access Siri by holding the button down.
In the name of simplicity, aesthetics, or cost savings though, Bose has omitted any onboard volume controls. It's a baffling decision that forces you to turn to your iPhone or Apple Watch, and while it's not an automatic dealkiller, it could cause problems for people who regularly transition between loud and quiet environments.
The good news on that front is that the Frames sound better than you're probably expecting — certainly more than I was. Audio is loud and crisp, enough that I was able to clearly discern music whether indoors or riding a scooter at 18mph. It helps, of course, that without anything lodged in the ear, there's nothing to amplify wind sounds. Indeed the ability to listen to music or podcasts without blocking out the outside world may be a key selling point, especially for runners, cyclists, and skateboarders.
Bass isn't on the same level as Beats or JBL, but can still be felt — it'll even vibrate your skull slightly. I found the Frames did well with multiple genres of music, though if you demand thumping or rumbling lows you'll want to turn elsewhere.
Drawbacks
The main limitation of the Frames, as you've no doubt guessed, is that they're sunglasses. You'll be taking them off indoors or at night, and likely on cloudy days as well. They're handy in sunny places like Austin where I live, but not so much in overcast cities such as London or Seattle.
There is a solution: you can get replacement lenses if you like, even prescription ones, but you'll be paying extra for the privilege. Yet if you lower the tint of the lenses, there's not much point in buying these over earbuds.
Battery life is another issue. The Frames are limited to 3.5 hours, and it can take up to 2 hours to recharge using a proprietary cable. You have to be selective about powering on. Bose is marketing them alongside a platform called "Bose AR," but even if there were more than a handful of compatible apps (like Walc), an all-day wearable demands better longevity.
The glasses moreover have an IPX2 water-resistance rating. That's only good for dripping water — if you're caught in a rainstorm, you should probably take them off immediately. Something designed to be worn outdoors should probably be IPX4 at least, which would protect against sprays and splashes.
Lastly, the use of conventional speakers instead of bone conduction means you'll deal with audio bleed, much like open-back headphones. People within a few feet will probably be able to tell you're listening to something, even if they can't tell what, which could be socially awkward.
Conclusions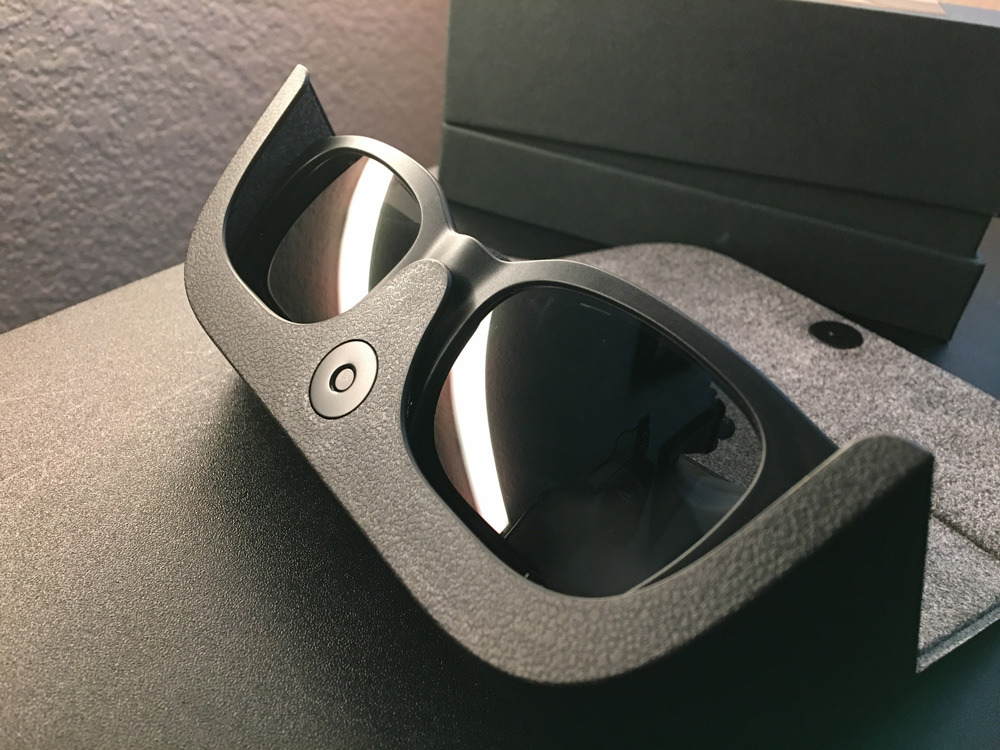 I've really been enjoying the Frames. When conditions are right they feel liberating, perhaps even a taste of our AR future, since they mix ambient and digital audio while being more convenient than conventional headphones. There's no fiddling with earpieces or bands.
As things stand however they only make sense if you wear sunglasses on a regular basis, and then only if you're willing to spend on a high-end pair. The Frames are actually cheaper than some "analog" sunglasses, so for some people this might be a bargain.
If you're already shopping for sunglasses and have the budget, I'd by all means consider the Frames. It's just that short battery life, weak water resistance, and a lack of volume buttons cast them as a first-gen effort, so it might be worth waiting to see what Bose or its rivals do next.
Score: 4 out of 5
Where to buy
The Bose Frames Audio Sunglasses are available on Amazon for $199 in your choice of Alto or Rondo styles. Bundles containing the glasses and colorful lenses from the Bose Frames Lens Collection are also available for $218 to $228 at Amazon.