Apple's latest transparency report includes government demands for App Store removals, redacted NSLs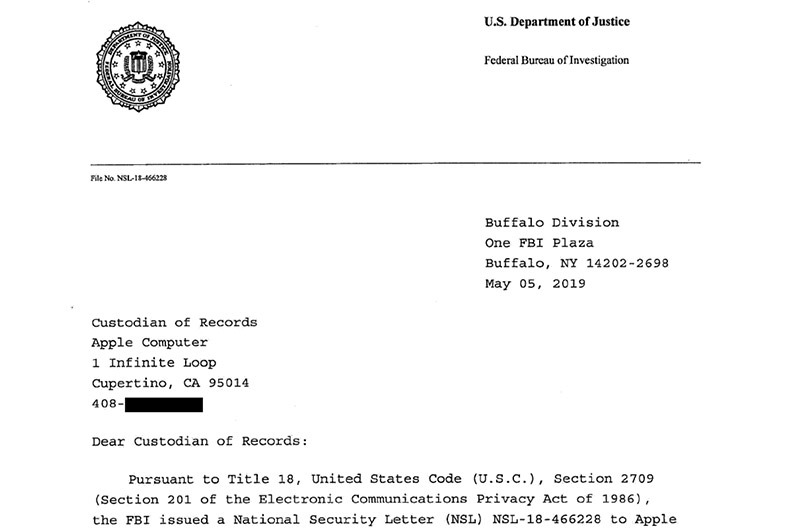 Apple on Tuesday published its transparency report for the six-month period ending in December 2018, revealing for the first time government requests to remove apps from the App Store and redacted national security letters dating back to 2016.
Included in Apple's most recent report (PDF link) are two new categories detailing government-directed app takedown requests, one covering legal violations and another for platform policy violations.
A first chart breaks down worldwide takedown requests based on alleged violation of local laws. Such requests can be made by regulatory or law enforcement agencies, Apple says, adding that it complies with government demands to the extent to which it is legally required.
China filed the highest number of requests by far, with 56 total filings calling for the removal of 626 apps deemed to be unlawful or contain unlawful content. Two were challenged, but only one was successful, with 55 requests resulting in app takedowns. In all, Apple removed 517 apps from the App Store at the behest of China.
Russia came in a distant second with 10 requests targeting 11 apps, 10 of which were pulled by Apple. Norway, Saudi Arabia and Switzerland each filed one request respectively naming 37, 25 and 19 legally dubious apps, while Vietnam sought the removal of 29 apps in three separate filings.
According to Apple, a "vast majority" of apps removed in China violated gambling or pornography laws, while takedown requests in Vietnam pertained to illegal gambling and unlicensed gaming app investigations. "All or vast majority" of requests in Austria, the Netherlands, Norway, Russia and Switzerland relate to illegal gambling investigations, and all 25 apps named by Saudi Arabia allegedly violated local privacy laws.
In total, Apple received 80 requests naming 770 apps worldwide, ultimately leading to the removal of 634 titles across its regional App Stores.
The company did not receive requests to remove apps from the App Store for suspected platform policy violations over the second half of 2018, leaving the "Worldwide Government App Store Takedown Requests - Platform Policy Violations" chart empty.
Apple said it will begin to report appeals received pursuant to government requests for App Store takedowns starting with the company's transparency report for the second half of 2019, likely to arrive in a year's time.
As noted by TechCrunch, Apple also for the first time furnished redacted copies of national security letters seeking information about customer accounts.
NSLs are served by the Federal Bureau of Investigation and do not require a court order. As such, they lack lawful authority to obtain customer content but can provide "transactional data" like contact information. Those served with a letter are obligated to comply if they have access to relevant information.
The NSLs Apple receives are protected by gag orders, but those safeguards are periodically reviewed and in some cases lifted when the FBI deems them no longer necessary.
Apple first disclosed receipt of an NSL in 2017, saying it was served with the order during the second half of 2016. That letter, along with four others, are available for perusal on Apple's Privacy webpage relating to U.S. government data requests.
As for Apple's regular reporting of data demands, worldwide government agencies filed 29,183 requests for information relating to 213,737 devices in the second half of 2018. That figure compares to 32,342 requests impacting 163,823 devices during the prior six months. China accounted for a bulk of the increase, filing requests targeting 137,595 devices.
In the U.S., the FBI filed between 3 and 499 NSLs impacting between 1,505 and 1,999 accounts. Reporting of NSL data is restricted to bands of 500 by law. No FISA requests were reported by Apple due to a mandatory six-month reporting delay.
U.S. government agencies filed 4,680 requests for customer information covering 19,318 financial identifiers or accounts. Apple handed over data relating to 3,778 device requests. Those figures compare to 4,570 requests impacting 14,911 identifiers in the first half of 2018.
Finally, Apple fielded 494 emergency requests worldwide, 189 of which originated in the U.S. In such cases, Apple can act in good faith and furnish customer account communications and records in the event that an emergency involving imminent danger of death or serious physical injury to a person requires its disclosure. The figure is up from 407 worldwide requests for the six-month period ending in June 2018.