Apple's iPhone privacy ad campaign continues with new billboards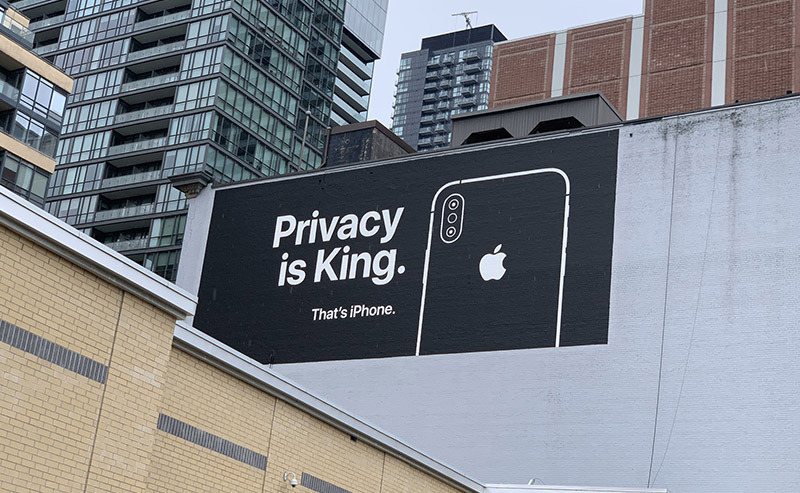 Apple recently erected new billboard advertisements in Canada to promote what has become an intense focus on consumer data privacy, continuing a campaign launched at CES 2019 in January.
The latest billboards, spotted by CBC Toronto contributor Matt Elliot and former tech journalist Josh McConnell, follow the same theme as Apple's CES advertisement and feature an outline schematic of an iPhone XS next to lines of clever text.
As noted by Elliot on Twitter, the billboard standing outside of Sidewalk Labs' Toronto headquarters reads, "We're in the business of staying out of yours." Below the pithy statement is Apple's "Privacy. That's iPhone." slogan.
A second billboard, painted on the side of a building facing major Toronto thoroughfare King Street West, reads, "Privacy is King." and includes the "That's iPhone." catchphrase. Apple seems to be a frequent lessee of the ad space, as past photos of the area show billboards bearing popular company promotions like last year's Behind the Mac campaign.
Apple debuted the visually staid but contextually lively billboard project at CES. While the company did not take part in the annual expo, its presence was felt with a large ad plastered on the side a SpringHill Suites by Marriott hotel, looming over attendees at the Las Vegas Convention Center.
Like the new billboards in Canada, Apple's CES poster pushed the company's stance on privacy, reading, "What happens on your iPhone, stays on your iPhone." The line is a sendup of Las Vegas' marketing catchphrase "What happens in Vegas, stays in Vegas."
Apple officially launched its "Privacy. That's iPhone." ad campaign in March with a humorous commercial urging consumers to take data privacy seriously. A series of similar spots has since aired on television and social media platforms.
Apple continues to frame itself as a bastion of data protection in an industry littered with companies keen on collecting and marketing customer information for monetary gain. As tech giants Facebook and Google face increased criticism over allegedly intrusive business strategies, Apple is moving forward with data privacy technologies like Do Not Track for iOS apps and the "Sign in with Apple" feature due to arrive alongside iOS 13 this fall.