Editorial: Manufacturers, it's time to put more USB-C ports on chargers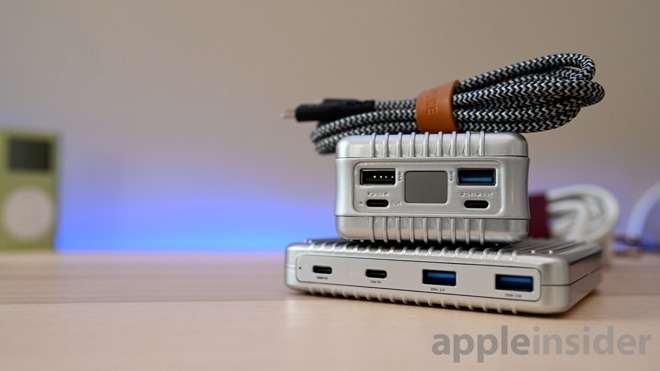 USB-C has continued to become more ubiquitous as more users adopt the small, reversible port. While all of our accessories are supporting it, chargers are lagging behind. Manufacturers — it is time to finally create chargers with more than a single USB-C port.
Even if you don't have all your devices switched to USB-C yet, you are surely familiar with the new specification. USB-C is the connector type replacing the aging USB-A port. It is reversible and smaller than type-A ports and it supports faster speeds. USB-C cables that use the USB 3.1 Gen 2 protocol can handle up to 10Gb per second at full duplex.
Apple saw the usefulness of USB-C and made all new portable Macs utilize the cable exclusively, ditching USB-A, DisplayPort, and MagSafe in the process. The new iPad Pro also uses type-C.
Other accessory makers in the past few years have started to release products using USB-C at a faster rate. Dashcams like Owl use USB-C, as do recent GoPros, the Nikon Z range of cameras, air purifiers like Wynd, and headphones such as the Master & Dynamic ANC over head cans.
The point is, with so much of our gear now relying on the updated port design, why are we limited to chargers that only support one or maybe two USB-C ports max?
It isn't a technical limitation in any way. Chelsea Liu, Zendure Product and Marketing Director told us that "there is no technical difficulty to make full USB-C charger. We just consider to cover future market and existing customers. Not all the electronics accessories have applied USB-C ports. Some of them are still using Micro-USB ports. So it's hard for them to find a USB-C to micro-USB cable to charge devices while USB-A cable has wider compatibility."
When AppleInsider reached out to several accessory makers, the main hangup that we were quoted was that USB-C PD takes too much power for more than two ports to be included on a charger at once. However, that doesn't need to be the case.
USB-C PD — the PD stands for Power Delivery — is a dynamic charging technology that can handle up to 100 watts with specific cables and chargers. This is the kind of charger need to power up Apple's latest Macs that use 60W or up to 87W of power draw.
What manufacturers seem to be trying to do is keep things simple by making all USB-C ports on their chargers support Power Delivery. Take the Satechi 75W Dual USB-C multi-charger. It sports two USB-C ports, with the top handling 60W output and the second handling 18W. The 60W is great for a Mac while the latter for an iPad Pro.
Then there are two legacy USB-A ports that charge at much lower speeds, usually five or seven watts. These ports are the ones that we wish would be swapped for low-power USB-C ports.
In our ideal world, we'd have a four-port multi-charger with all USB-C. Two that support USB-C PD at fast speeds for power hungry gear such as Macs or iPads, and two slower ports for headphones, fitness accessories, etc.
Take my standard setup for example. Admittedly, I often truck around with more gear than the average consumer, but I don't think my setup is all that odd.
When I head out, I take my MacBook Pro (or my iPad Pro), my iPhone, my Apple Watch, and a pair of headphones. Both my Mac and iPad Pro use USB-C to charge and with the newfound prevalence of USB-C Lightning cables I also use that to quick charge my iPhone and even my AirPods.
If I'm not taking my AirPods, I take my Master & Dynamic ANC headphones which came with a USB-C cable. I also use a USB-C Apple Watch charger because it can plug into my iPad or Mac.
Other gear that I travel with from time-to-time include my Nikon Z 7, my GoPro Hero 7, or my DJI Osmo, all of which use USB-C. The current option is to grab a bunch of USB-C to USB-A cables which is frustrating to bring along or to just charge two devices at once.
None of this is ideal, as manufacturers like to suggest.
Some have thrown the blame at Apple and the iPhone. "I know Android fans will be shouting at their monitors, but a general mentality in the industry is that until the iPhone commits to a technology, it is just not worth the R&D to really commit to that technology. The iPhone will likely remain lightning this year, but if the iPhone ships with a USB-C — > Lightning cable, game on, multiport USB-C chargers will be everywhere," said Brian Hahn, co-founder and Head of Product at Nomad.
Manufacturers have the ability to create all USB-C chargers without worrying about heat or power by just including slower ports that still put out the same amount of power as current chargers with both type A and C.
Just because the iPhone is still toting around a Lightning port isn't a sufficient excuse either as Apple and nearly all cable manufacturers have started shipping faster USB-C to Lightning cables that would easily benefit from this type of charger.
It is time for them to stop holding on to the legacy ports and embrace USB-C to push the industry forward and to finally allow early adopters and those with newer devices the ability to actually charge their gear the way they should be able to.