Review: LG UltraWide 5K USB-C display — Too wide?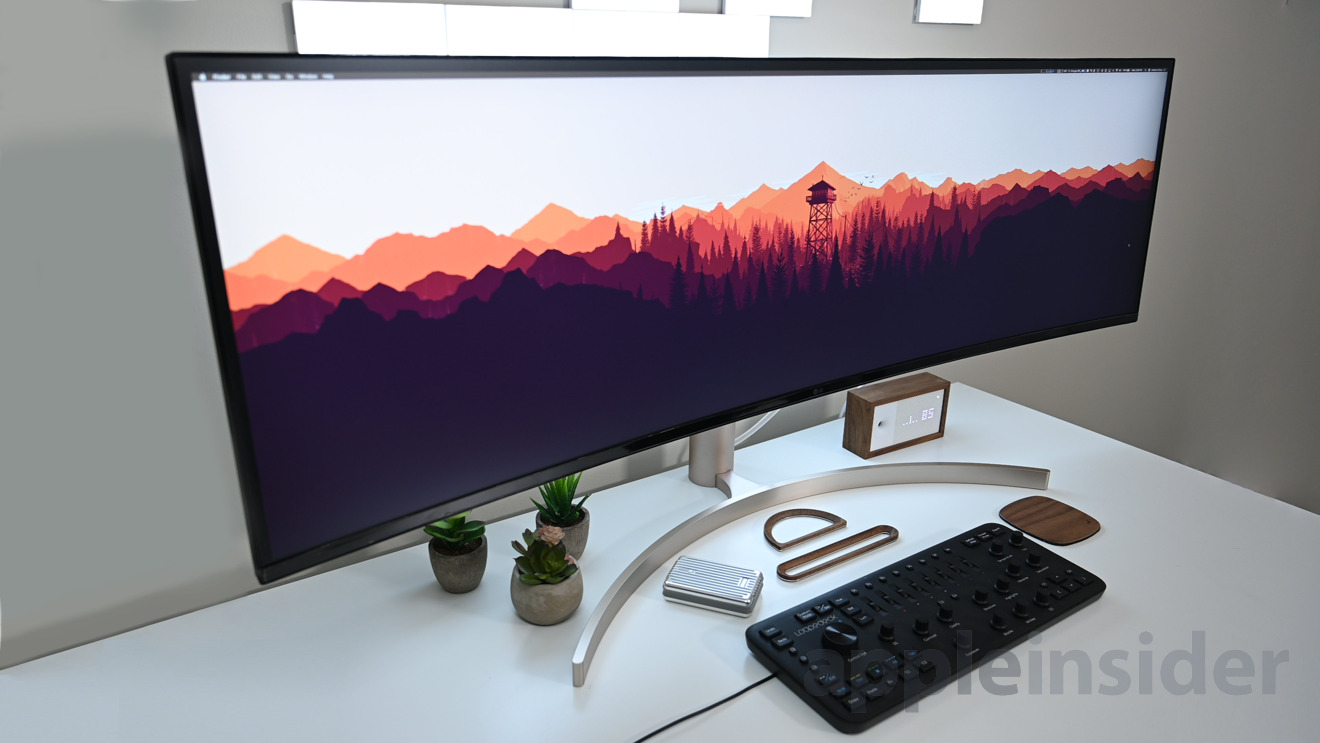 AppleInsider is supported by its audience and may earn commission as an Amazon Associate and affiliate partner on qualifying purchases. These affiliate partnerships do not influence our editorial content.
We've seen more than our fair share of monitors, but the 49-inch curved UltraWide LG 5K display is another thing entirely. We checked out LG's newest — and widest — USB-C 5K monitor yet.
Specs and ports
The LG49WL95C-W is fairly well outfitted with a smattering of ports and inputs around the back and side.
Along the side is a pair of USB-A ports alongside a 3.5mm headphone jack. Those compliment the additional ports around the back such as the power input, dual HDMI, two more USB-A ports, and a USB-C input.
That USB-C is the best way to connect this display to your Mac. It allows 80W of passthrough power to your portable Mac and access to the headphone jack and USB-A ports without needing to connect additional cables. LG opted to completely integrate the power supply on the 49WL95C-W, which means there is no bulky power brick lying around under your desk.
An aluminum stand holds up the display. The stand is solid and looks great, although it does have a soft gold tint to the anodized finish. For comfort, the display can adjust up and down, tilt, and rotate. The curve helps with the rotation for it would otherwise smack into our wall with its huge size.
There are also dual 10W speakers below the display which sound definitely above average though it won't replace a set of studio monitors.
Native resolution is 5120 by 1440 and our 2016 MacBook Pro had no issues scaling to that default resolution when connected. It immediately sprang to life at full resolution and looked stunning. However, we have heard reports of some on different Macs having issues supporting that.
The display itself is categorized as 5K but with the massive horizontal size it is more akin to a dual QHD setup, each with a resolution of 2560 by 1440. For comparison sake, it is larger than two 1080P displays side to side.
We didn't encounter that issue but it should be something to be aware of. If we picked up this display and it only supported 3840 x 1080 we would certainly be utilizing the retailer's return policy. At 3840 by 1080, the pixels supplied to the monitor by the computer is just not enough to produce a crisp image.
How big is too big?
As we mentioned, we are powering our LG UltraWide 5K display with our 2016 MacBook Pro at full native resolution.
The display looks fantastic and it is absolutely amazing when dealing with linear editing apps such as Logic Pro X or Final Cut Pro X. You can fit your entire timeline in the display without having to zoom out to uncomfortable levels. It really helps the workflow process not having to scroll around the display so much.
One issue that presents itself is that with a monitor this wide, users could benefit by having three windows open at once instead of just the default split view macOS allows. It shows a weakness with macOS which could use some better window management. There are workarounds and third-party solutions, but those would need to be investigated by users.
This display does lack some of the pixel density we see from other 5K displays, simply because of the size. Comparing a 32-inch 5K display and a 49-inch 5K display, the former has a much higher pixel density and produces much crisper imagery than the 49-inch.
If this display was flat rather than curved we'd sit a little further back to get more of the display in our view, but since it is curved it feels very natural and we sit slightly closer. We definitely notice a difference going between a smaller 5K display and this one but for certain applications, the tradeoff is worth it.
Like Apple's own displays, an ambient light sensor is embedded in the top of the display which helps adjust the brightness based on the room you are using it in and it seemed to work well though sometimes leaned towards being on the bright side.
USB 3.1 type C has downsides compared to Thunderbolt 3, and for this price we'd have preferred the latter. But, even with the slower connection, it has enough functionality to make it still a very solid alternative. The 80W of power is almost the maximum input allowed by our MacBook Pro — which is 87W for the record — but we'd prefer if we had the ability to daisy-chain high bitrate devices.
Thunderbolt 3 would allow us to connect additional Thunderbolt 3 devices into the display, daisy chaining them together, still keeping one cable connected to our Mac.
LG alleviates some issues by adding ports along the back but those are still limited to USB-A, likely intended for keyboards alone. We have largely transitioned to USB-C and this display offers absolutely no additional USB-C ports.
As we continued to use the display, our workflow wound up with a USB-C Hub in between our MacBook Pro running in clamshell mode on the underside of our desk. It works well and gives us access to several ports not on the backside of this massive monitor.
After spending a few weeks with the LG49WL95C-W, we've started to really enjoy it. We went back to a non-curved non-UltraWide display and it felt immediately cramped. Granted, we have a workflow that meshes quite well with an ultra wide display. We deal with images, audio, video, etc and we felt bogged down as soon as we tried working on the smaller display again.
There are other hiccups than just lack of ports, such as that it wiggles if your desk shakes at all and is exacerbated when the display is at the top of its range rather than the bottom. Those issues aside, this is an encompassing, HDR-supporting, beautiful and giant display that plays well to a niche audience.
Rating: 4 out of 5
Where to buy
LG's 49-inch Curved UltraWide HDR IPS Monitor (49WL95C-W) is available at both Amazon and B&H Photo for $1,326.99. Shoppers in eligible states can also save on tax instantly at B&H with its Payboo Credit Card.