Review: The 2019 MacBook Air carries the legacy of the line very well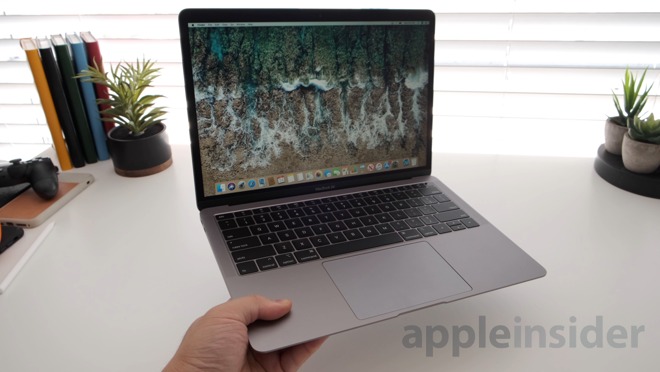 Apple MacBook Air (2019)
4.0 / 5
---
AppleInsider may earn an affiliate commission on purchases made through links on our site.
Apple has updated the MacBook Air alongside the MacBook Pro. We've spent the past couple weeks with the newly revamped Air to see how it performs as Apple's new entry-level portable Mac.
We're looking at the base mid-2019 MacBook Air with a 1.6GHz dual-core processor, 8GB of RAM and 128GB of storage, as we wanted to see what the most cost-efficient machine was capable of.
Continuing legacy
The MacBook Air is machine with a history. Gasps reverberated from the audience as Steve Jobs famously removed the original Air from a manila envelope on stage during his keynote. While the original Air was underpowered and expensive, the second generation a few years later cemented its legacy.
For many, it became the go-to option with a combination of an incredibly thin design and enough power for everyday tasks.
As the years went on, the design remained fairly stagnant, eventually falling behind the curve with a non-Retina display, thick bezels, and no USB-C. That changed in October 2018 when Apple announced an entirely new and revamped MacBook Air.
The new machine finally adopted Apple's Retina display, dual Thunderbolt 3 ports, a tweaked design, and even Touch ID.
Less than a year has passed since Apple brought the MacBook Air back into the collective consciousness, and only minor changes are present this time around.
Minor, necessary changes
This time around, Apple has modified the Retina display. It retains the same size, resolution, and so forth, but now has True Tone.
For the uninitiated, True Tone is Apple's display tech that automatically adjusts the temperature of the display based on the room. A sensor monitors the ambient light in a room and matches the display's white balance to match. When the display matches the room's light, it is less harsh on the eyes and more comfortable and natural to view.
The display was already excellent, so this added feature is just icing on the cake.
Another upgrade Apple has made to this machine is the keyboard — a whole can of worms in and of itself.
The keyboard conundrum
The 2019 MacBook Air is equipped with the latest generation butterfly keyboard. The so-called "3.5" generation of the keyboard improves on much of what was controversial about previous iterations. It has the same shallow key travel, but is softer and quieter than before.
Apple's machines are renowned for their longevity and lifespan, whether it is the original user utilizing it for many years or another using it after it is sold after a few years of solid years of use — for a good chunk of the original price.
With a keyboard of questionable durability, it becomes a big question when looking to pick up a new Mac. As soon as we went hands-on we were inundated with comments, all saying something along the lines of "I won't buy it if it has the butterfly keyboard!"
And, that's not even addressing the usability of the keyboard. In the four years we've been covering machines with it, it seems like nearly half like typing on it, half don't, and almost nobody in between that just tolerates it.
After only a couple weeks with the machine, we can't speak to the long-term reliability of this keyboard. We do know Apple has made changes, of which some of the effects we mentioned above. Unfortunately, it's too early to tell if they've made a difference.
From day one, 2019 the MacBook Air keyboard is included in Apple's extended repair program, which means if someone picks up this machine now, the keyboard will come with a de facto four-year warranty.
But, is all this enough to appease the worries of would-be buyers? The verdict is still out, and will be for some time.
Still a solid foundation
Everything else here remains the same. There are two 40 gigabit per second Thunderbolt 3 Type-C ports located on the left side of the machine and a 3.5mm headphone jack on the right. Like the 2018 model, the 2019 MacBook Air is powered over USB-C rather than MagSafe, another change from previous models that has induced some debate.
Embrace USB-C. It is literally a standard, and it isn't Apple-proprietary. Using it is nowhere near a struggle like it was as it was just a few years ago.
Lightning to USB-C cables are prevalent, USB-C hubs for those that need them have become rampant among accessory makers, and many new products are now natively shipping with Type-C cables and connectors.
You don't need a million adapters to get the job done. Use USB-C to HDMI or DisplayPort cables for about the same price as a non-USB-C cable, or use a USB-C to USB-B cable for that enclosure.
Performance is near identical with the last generation due to the inclusion of the same Y-generation Intel processor. Our Geekbench 4 tests yielded 4310 and 7871 on the multi-core and single-core tests.
On last year's 1.6GHz machine, we averaged 4362 and 7858 on its test which are in line with what we have now.
Cinebench R20 — an updated version of the R15 we ran last year — gave us a score of 643.
Neither of these numbers are particularly impressive, nor are they woefully small. In truth, the processor does struggle in under heavy loads.
But, most people aren't really pushing their machines in daily tasks. Emails, watching video, editing photos, browsing in Safari, etc all work just fine without any hangups.
Jumping into Final Cut or other more intensive applications shows the shortcomings of the machine, but just won't be a common enough of a use case for the target user of this machine for concern. Anyone who dabbles in those even a little bit would likely be turning their eyes towards the new 13-inch MacBook Pro with two Thunderbolt 3 ports, or higher.
One area we saw go down was the performance of the SSD. It is now slightly slower than last year, but just as with the processor limitations, most daily users won't pay it much attention.
Shoes to fill
The 2019 MacBook Air has some big shoes to fill. Not just that of its predecessor, but of the 12-inch Retina MacBook that Apple discontinued.
Those who want Apple's most portable machine now have this Air as their option. MacBook Air is an exceptional machine but we still miss the size of the 12-inch MacBook and it is hard to turn to this instead.
Especially when the MacBook Pro 13-inch isn't all that much more expensive and offers better performance.
Apple did slash the price of the MacBook Air to $1099 which gets you a 1.6GHz dual-core 8th-generation Intel Core i5 processor that can Turbo Boost up to 3.6GHz as well as 128GB of storage and 8GB of LPDDR3 RAM with Intel UHD Graphics 617. Students get even better pricing, down to $999.
The combination of the svelte design, lower price, and slightly improved specs will likely make this the preferred option for many, many users - especially with the lack of the 12-inch alternative.
Rating: 4 out of 5
Where to buy
Apple's new MacBook Air is currently eligible for exclusive coupon discounts at Adorama with coupon code APINSIDER. Select CTO models are over $100 off, with no interest financing when paid in full within 12 months with the Adorama Credit Card.
For the best deals and current availability on all 2019 MacBook Airs, be sure to visit our MacBook Air Price Guide.