Apple's iPhone sales down 13% in Q3, accounts for less than half of total revenues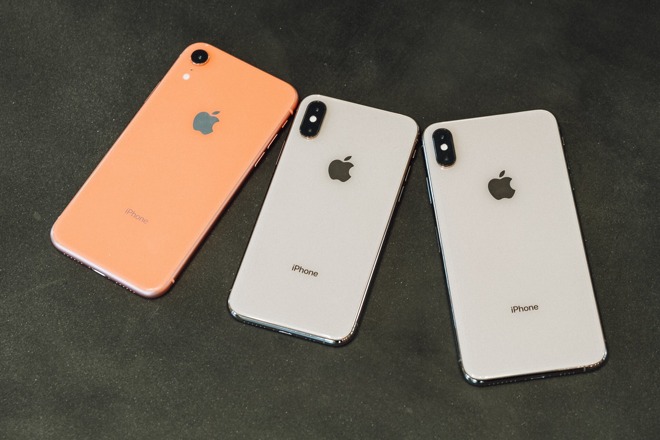 AppleInsider may earn an affiliate commission on purchases made through links on our site.
In a continuing downward trend, Apple's iPhone revenue was down 13% year-over-year, according to Apple's recently released earnings report, with the segment now accounting for less than half of the company's total quarterly revenue.
Apple released earnings for its third fiscal quarter of 2019 after the close of trading on Tuesday. This quarter historically is the slowest in terms of sales as customers anticipate the release of the new iPhones, expected to debut at a special event in September.
As with the past three quarters, iPhone revenue suffered a year-over-year decline. Apple did see a decrease in sales in China year over year — dropping $300 million compared to this quarter last year, but it was offset by growth in nearly every other geographical region.
Cook made note that Apple has experienced better year-over-year growth in China than in the last two quarters. This is largely due to government stimulus in the form of VAT decreases, pricing action, trading, and growing engagement in mainland China. The App Store in China has been the driving force behind Services growth.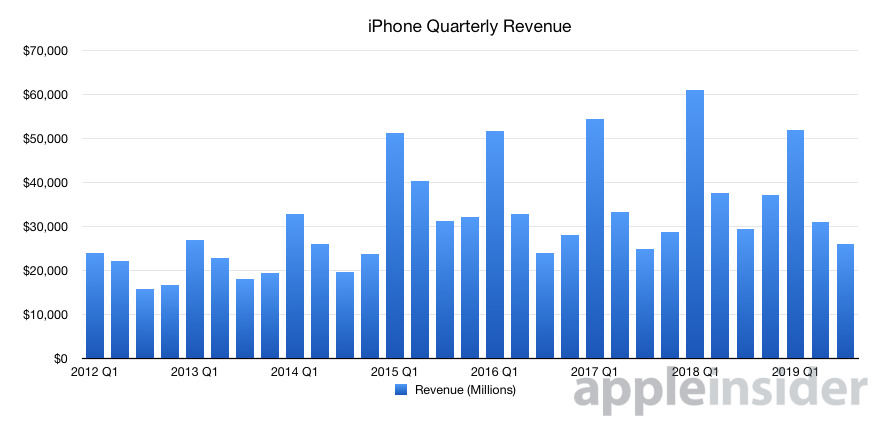 There was a silver lining to this quarter's iPhone results, however, as Cook said sales in retail and online stores returned to growth on a year-over-year basis. Further, the handset's active install base reached a new all-time high and was up from the same time last year in Apple's top 20 markets, Cook said.
Apple no longer provides iPhone unit sales, leaving only revenue figures to provide insight to iPhone performance.
While Apple has suffered reduced iPhone sales this quarter, it saw substantial growth in both wearables as well as services such as Apple News+ and Apple TV.