Vizio starts rolling out AirPlay 2, HomeKit updates for compatible televisions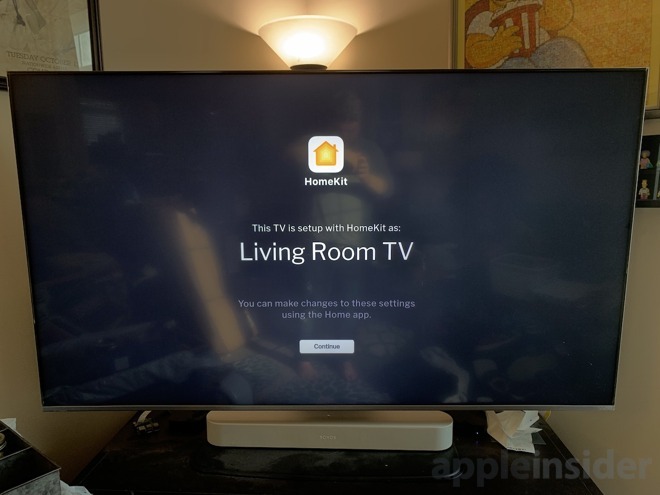 Starting on Wednesday, Vizio has started the HomeKit and AirPlay 2 update process for some of its Smartcast line televisions dating back to 2017.
With the update, users will be able to use AirPlay to stream videos and music from their iOS device directly to their smart TV without the need for an Apple TV. They will also be able to control the TV using HomeKit, or through the new iOS Remote widget.
HomeKit allows users to simply ask Siri to turn the TV on or off. The TV can also be included in scenes, so a "movie time" scene might dim the lights, lower the curtains, turn the TV on, and change the input to Apple TV, all at once.
Vizio users can switch inputs and navigate menus through the Home app or the Remote app. Controls such as a number pad, picture-in-picture, video mode and others are not currently supported directly through an iOS device, though these features could be added later.
The update process involves launching the Vizio SmartCast app, choosing "Apple AirPlay & HomeKit" from the left-hand menu and following the prompts. A HomeKit pairing code and QR code is displayed on the TV to be scanned — even from across the room — with an iOS device.
Anyone in the U.S. or Canada with a compatible SmartCast TV will ultimately get the update that was first announced in January. When complete, that will include all D-, E-, M-, and P-Series sets shipped since 2017, and 2018 and 2019 P-Series Quantum models.
"SmartCast 3.0 is full of added value for Vizio customers. With both AirPlay 2 and HomeKit support, users can now share movies, TV shows, music and more from their favorite apps, including the Apple TV app, directly to SmartCast TVs, and enable TV controls through the Home app and Siri," said Vizio's Chief Technology Officer Bill Baxter. "We are thrilled to offer an even more compelling value proposition to our users with a smart TV experience that supports all three major voice assistants. This broad range of compatibility enables Vizio SmartCast to seamlessly integrate into any household with Siri, Google Assistant or Alexa - giving users more ways to sit back and enjoy the entertainment they love."
The company notes that 4K and Dolby Vision compatibility is limited to select apps. Software required for it also needs iOS 12.3 or macOS 10.14.5 or newer.