Nanoleaf Canvas adds 'Touch Actions' to control other HomeKit devices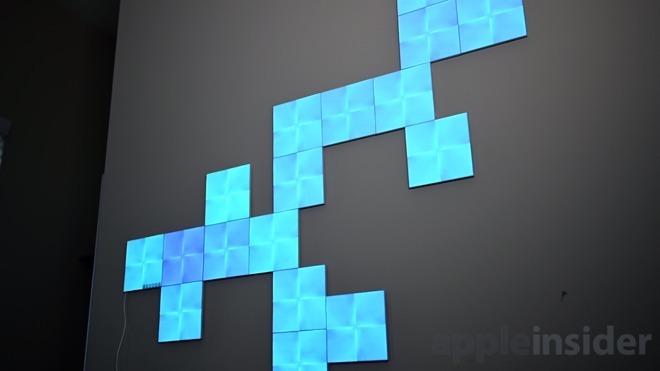 Nanoleaf is adding new functionality to its Canvas smart light that allows other HomeKit devices to be controlled just by touching the panels.
Canvas is a smart light made up of interchangeable LED panels that can be configured and expanded into any number of different designs and patterns — up to and including entire wall and ceiling installations. The new Touch Actions are an easy expansion to Canvas that already had support for touch input on each of the panels and worked natively with HomeKit itself. This helps simplify smart home controls.
"Technology works best when it fits seamlessly into the routines of our daily lives," said Gimmy Chu, Nanoleaf's CEO. "Touch Actions eliminates the extra steps of taking out your phone, unlocking, swiping, and tapping into the phone's app."
Touch Actions can be invoked in one of three ways — a single press, a double press, or a long press. Each square of the Canvas has those three controls and can be set up separately.
AppleInsider reviewed the Canvas Smarter Kit when it launched and loved the smart light but did feel the touch panels were a bit of a missed opportunity. The addition of Touch Actions finally fills out a minor weak spot in the already impressive light.
Nanoleaf also offers a standalone remote for HomeKit that resembles a 12-sided die that invokes a different scene based on which side is currently facing up. Building this into a device many already have is certainly beneficial to having to purchase a second device.