Review: Yamaha's AirPlay-ready MusicCast BAR 400 offers above-average wireless sound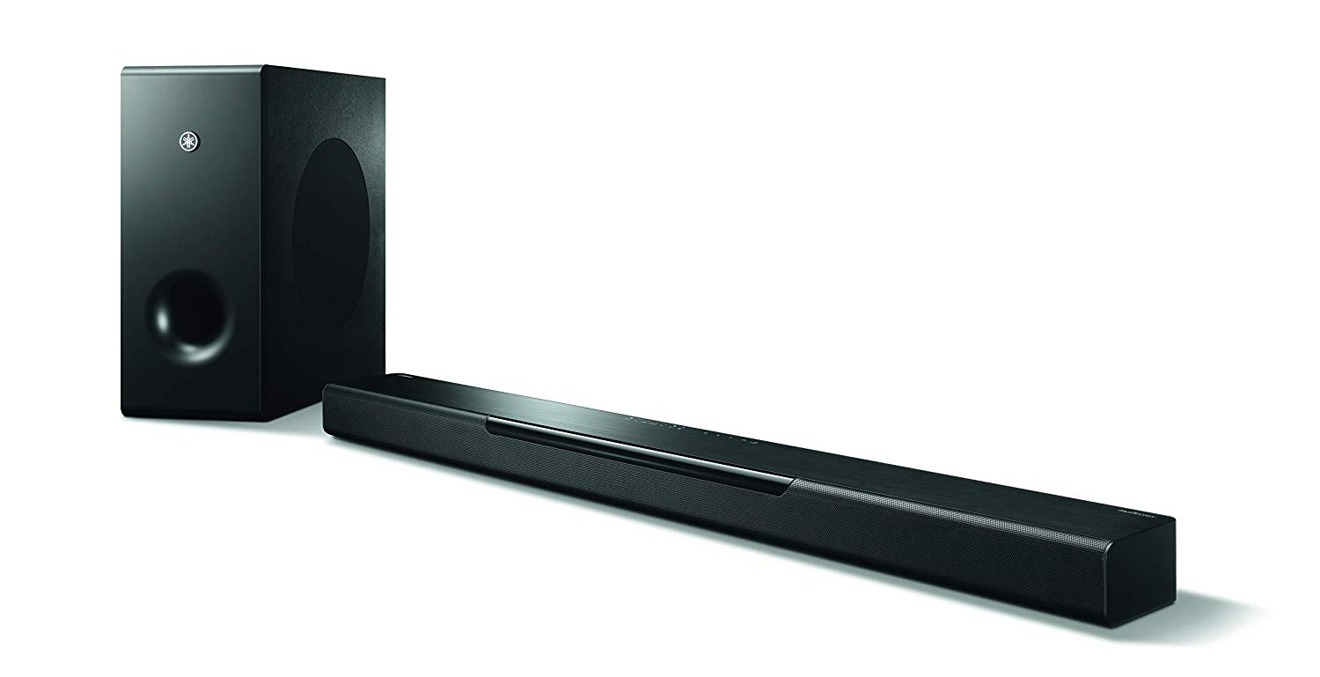 Yamaha's MusicCast BAR 400 is a quality AirPlay 2-compatible TV sub and soundbar combo that's worth the price — just don't expect to make much use of the company's iOS app.
First, a little inside baseball. Despite the clear emphasis on home theater setups, we were initially going to test the BAR 400 as a possible option for Mac desktops. It has HDMI in/out, auxiliary, and optical ports, and who wouldn't want that level of power for their computer?
On receiving it though I quickly realized that at 38.6 inches, the soundbar was just far too long for my desk, or really for most people's desks unless perhaps they've got the sort of huge, minimalist space you only see in movies and advertising (or maybe MKBHD videos). So we turned things around to test the BAR 400 for its intended purpose.
At a raw level, the product equips your TV with 200 watts of output, 100 per component. It supports Dolby's Digital and Pro Logic II standards, as well as DTS' Digital Surround and Virtual:X, so while Yamaha ideally wants you to pair with wireless MusicCast 20 or 50 speakers for true 5.1 surround, you can get an immersive soundscape without forking out extra cash.
For those concerned: the HDMI interface supports ARC, 4K60 passthrough, and high dynamic range in the form of HDR10 and Dolby Vision.
Setup is manageable, but was easily my least favorite part of the experience. For one, I'm not a fan of Yamaha's port placement — except for power, connections are located not just in a recess on the back, but on the side of that recess. That can make it tricky to connect cables, especially if they're not very flexible or, say, the bar has to go behind the TV to avoid the reach of a curious toddler.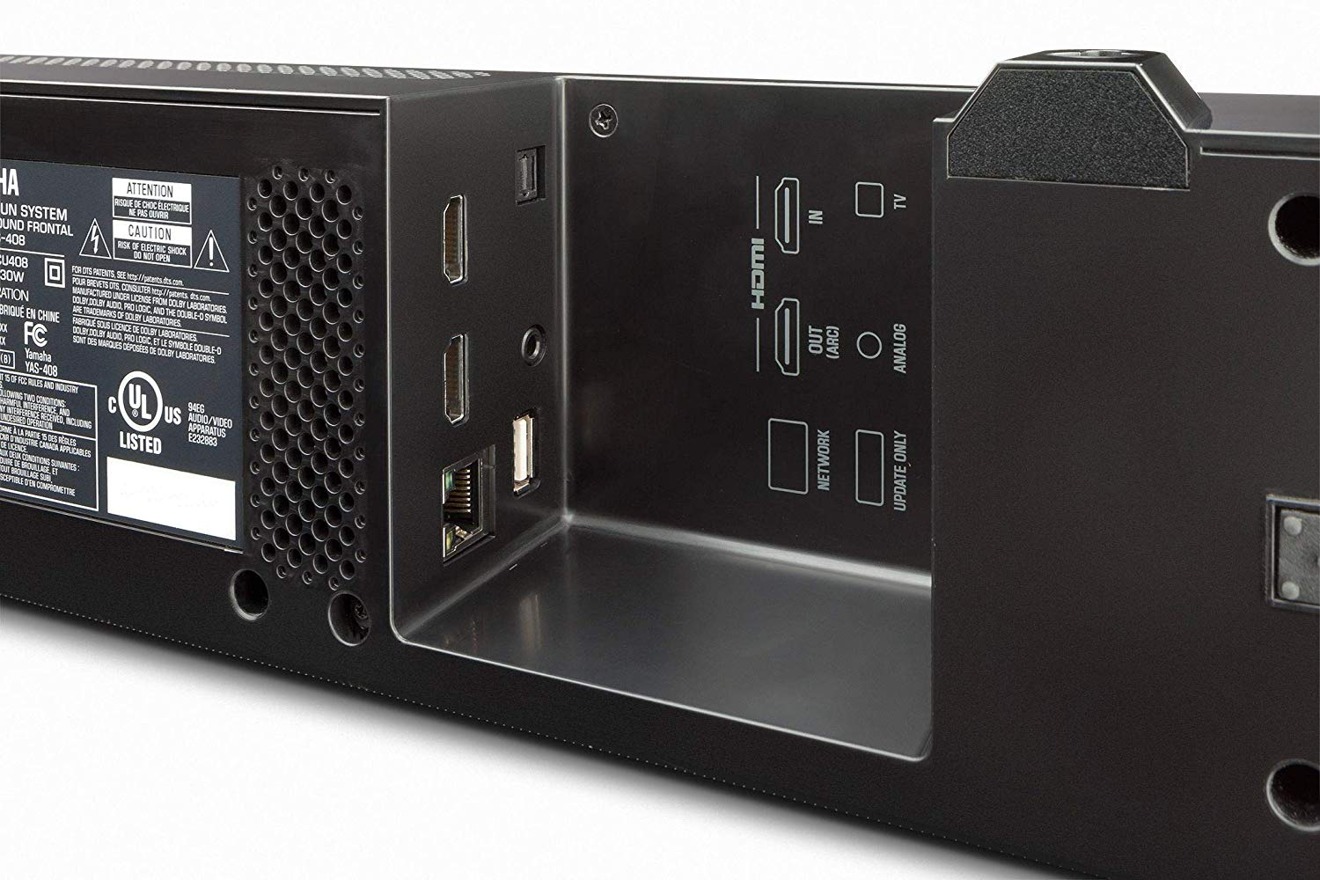 The digital half of setup also feels unnecessarily complex. The bar supports Bluetooth, but in order to connect it to Wi-Fi and hence AirPlay, you'll need Yamaha's iPhone/iPad app. The app's interface is a little outdated and confusing, and for setup you'll need to temporarily switch Wi-Fi networks in iOS — be sure to remember your router login. Other speaker makers such as JBL and Sonos have better streamlining.
The good news is that once installation is complete, there's really no need to load Yamaha's app again. For music, you can just select the soundbar as a destination in AirPlay or Bluetooth. It's also compatible with Amazon Alexa, Google Assistant, and Spotify Connect, so perhaps it's no wonder why the app is neglected.
AirPlay works about as you'd expect. It can take a few seconds to push music from iOS, but that's pretty common. Support extends into Siri and the Home app, and like any AirPlay 2 speaker you can group with other units.
Yamaha includes a bundled IR remote, which I found myself using surprisingly often. For one thing there are separate bar and sub volumes, and Yamaha has several on-the-fly effects: Stereo, Surround, 3D Surround, Clear Voice, and Bass Extension. In my subjective experience, Surround and Bass Extension were the only ones I kept on permanently — Clear Voice seemed to make vocals too sharp, while 3D Surround (which uses DTS Virtual:X) is nominally supposed to allow both vertical and horizontal panning, but just didn't sound pleasing to me. It may make sense for some movies but not much more.
When you've got the right settings in place the 400 does have very satisfying sound. It's not the best I've sub/bar combo I've ever heard, since it lacks the clarity you'd hear from something like a Sonos Playbase/Sub pair, but it's more than adequate and puts out plenty of punch from the highs to the lows. It's the fact that you can get the whole package for under $500, I think, that makes it impressive.
Conclusions
The BAR 400 probably wouldn't be my first choice if I were hunting for TV audio, but I was happy with it. That Sonos pairing I suggested could easily cost $1,400, so getting above-average wireless sound for almost $1,000 less is a feat. My only real issues were with setup and port placement, but if you can overlook those, there's little reason not to pull the trigger.
Score: 4 out of 5
Where to buy
The Yamaha MusicCast Bar 400 Sound Bar with Wireless Subwoofer retails for $499 and is available from Amazon and B&H Photo. B&H also offers shoppers in eligible states an instant sales tax refund with its Payboo Card.