Growth of iPad market share defies shrinking tablet shipments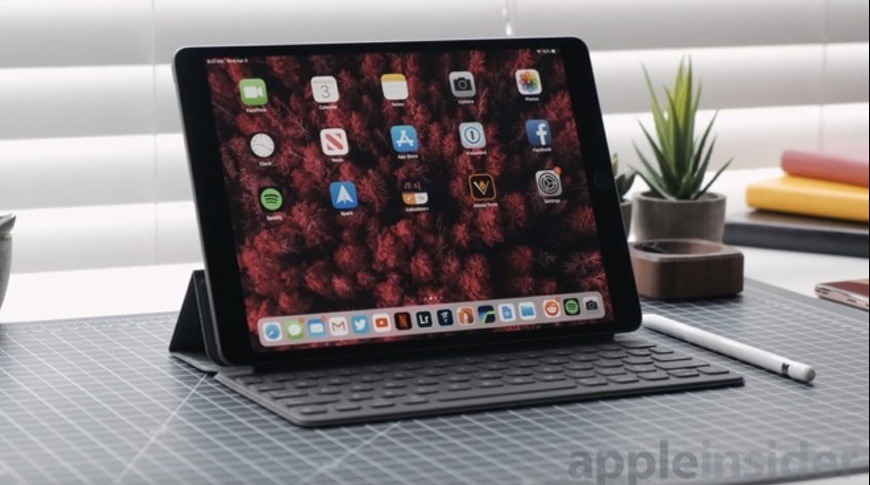 The iPad has extended its lead over other tablets in the second quarter, shipment figures from IDC claim, with Apple now making up 38.1 percent of the global tablet market and seeing increased growth over the same quarter last year, while competitors are largely enduring a reduction in shipments for the period.
The global tablet market saw a decline in shipments for the second quarter of 32.2 million units, data from IDC's Worldwide Quarterly Tablet Tracker reveals, resulting in an overall market decline of 5.0% year-on-year from 33.9 million units in 2018.
For Apple specifically, it shifted from 11.6 million units in Q2 2018 to 12.3 million in Q2 2019, representing a year-on-year growth of 6.1%. Compared with the rest of the market and taking into account the overall decline, Apple's market share also grew from 34.1% for the period in 2018 to 38.1% in Q2 2019, gaining 4% of the market.
"The launch of the detachable iPad Air in 2Q19 helped Apple to double its detachable tablet shipments," wrote IDC. "Meanwhile, slate iPads declined 7.5% year-over-year as the new iPads were unable to maintain the same momentum of upgrades as those launched in 2018."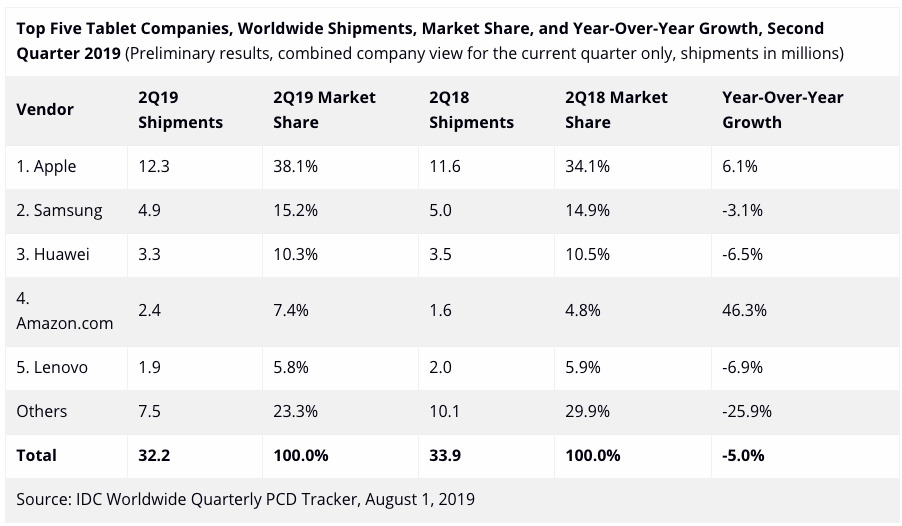 Apple no longer regularly reports its shipment figures for products as part of its quarterly results, but the IDC figures suggest an estimated average selling price (ASP) of $413.01, based on the most recent quarterly earnings report stating iPad revenue was $5.08 billion for the quarter.
This works out to be up from the ASP for the same period in 2018, which was $401.11, indicating consumers are going for more expensive models. So far, 2019's releases have included the iPad Air and refreshed iPad mini, with the standard 9.7-inch iPad not updated since 2018.
Elsewhere in the market, Samsung's second-place market share of 15.2% increased, despite seeing shipments decline 3.1% year-on-year to 4.9 million units, most likely due to the rest of the market also seeing declines. Huawei saw its market share drop from 10.5% to 10.3% with shipments down 6.5% to 3.3 million units, while fifth-place Lenovo's 5.8% share was due to a 25.9% year-on-year shipment drop to 7.5 million units.
The only other company in the top five to see growth alongside Apple is Amazon, which enjoyed year-on-year growth of 46.3 percent to 2.4 million shipments, growing its market share from 4.8% to 7.4%.