Law enforcement can get Ring doorbell video by just asking for it [u]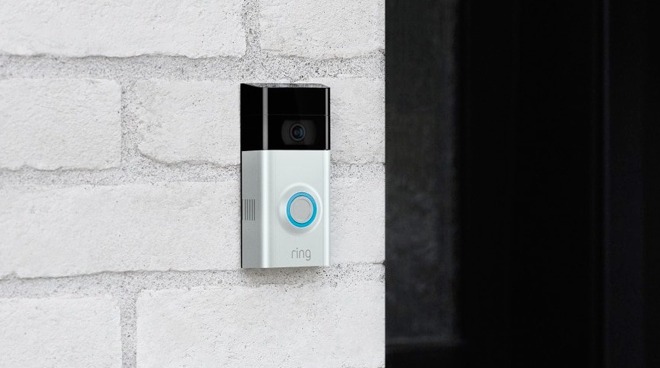 AppleInsider may earn an affiliate commission on purchases made through links on our site.
Concern has been raised over Amazon's Ring video doorbell and its links to law enforcement, with the assorted tools and partnerships between the retailer and the police considered to be eroding privacy for customers, their neighbors, and anyone who comes into contact with the surveillance devices, with law enforcement officials having relatively easy access to camera footage.
Acquired in February 2018 by Amazon, the Ring video doorbell range has been marketed as an easy way for homeowners to keep watch of parcels and to see who is at the door from their smartphone, via the official app. The increased security is also bolstered with the ability to record what is happening within view of the doorbell, which can be used later to catch criminals.
The increased use of Ring by consumers since its acquisition by Amazon has also been accompanied by a greater push by Amazon to provide more access to footage gathered by the camera network to law enforcement, reports GovTech. By working with police, Amazon is accused of helping produce surveillance networks which are relatively easy to access and obtain video from.
One area of interest to privacy advocates is free access to a Ring portal for the police that enables them to communicate with residents to acquire video. In exchange for the access, Amazon requires a memo of understanding from the police that effectively allows Amazon to ghostwrite press releases from law enforcement, effectively making the security agencies an advertising venue.
"Law enforcement can only submit requests to users in a given area when investigating an active case," a spokesperson for Ring told AppleInsider a day after our request for comment. "Ring facilitates these requests and user consent is required in order for any footage or information to be shared with law enforcement."
If a resident declines to provide video for a police request, there is still an opportunity for law enforcement to get the footage, by contacting Amazon directly. Public information officer for the Fresno County Sheriff's Office Tony Botti advised that, if a request is declined by the homeowner, police can essentially "subpoena" the video from Amazon directly, ignoring the failed request completely. But, a subpoena isn't required, and there is a law enforcement portal for law enforcement to ask for the video, without a court order.
"If we ask within 60 days of the recording and as long as it's been uploaded to the cloud, then Ring can take it out of the cloud and send it to us legally so that we can use it as part of our investigation," said Botti.
Ring has denied the claims that Botti made.
"The reports that police can obtain any video from a Ring doorbell within 60 days is false. Ring will not release customer information in response to government demands without a valid and binding legal demand properly served on us," said Ring. "Ring objects to overbroad or otherwise inappropriate demands as a matter of course. We are working with the Fresno County Sheriff's Office to ensure this is understood."
Emails obtained by Motherboard reveal the level of assistance that Ring goes to with law enforcement on the matter, including coaching on how to obtain footage and templates for footage requests.
Overall, the partnership is assumed to have a positive impact on the ability for the police to investigate crimes. Botti suggests "It lessens the work we have to do; maybe we have to knock on a few less doors to get the video."
In answering privacy concerns, Botti suggests the consumer's investment in the device negates that issue. "They chose to pay for a service that enables it to be viewed by either us or Ring. The consumer knows what they're getting into. If you're a good upstanding person who is doing things lawfully, nobody has concerns."
Macomb Community College Professor Chris Gilliard suggested the coaching by Amazon covered both how to do their jobs and how to promote Ring products. "Not coincidentally, those things overlapped quite a bit. That's really disturbing."
As part of the coaching, Ring suggests police raise awareness of their requests in the Neighbors app to promote the use of Ring and encourage more people to sign up, which in turn increases the number of cameras in use.
Ring sees the situation differently.
"To promote transparency, we encourage our law enforcement partners to share the details of their Ring partnership with their communities, as well as educate residents on how they can engage with police representatives on the Neighbors app," Ring told AppleInsider "Through these partnerships, we aim to open the lines of communication between community members and law enforcement to build stronger, safer communities."
Advocacy group Fight for the Future has previously called for the end of partnerships between local governments and police with Ring, under the accusation the firm is creating a giant and private surveillance system without regulatory oversight.
Updated on August 7 with statements from Ring provided to AppleInsider regarding the Motherboard report