At Samsung Unpacked, CEO Satya Nadella escalates Microsoft partnership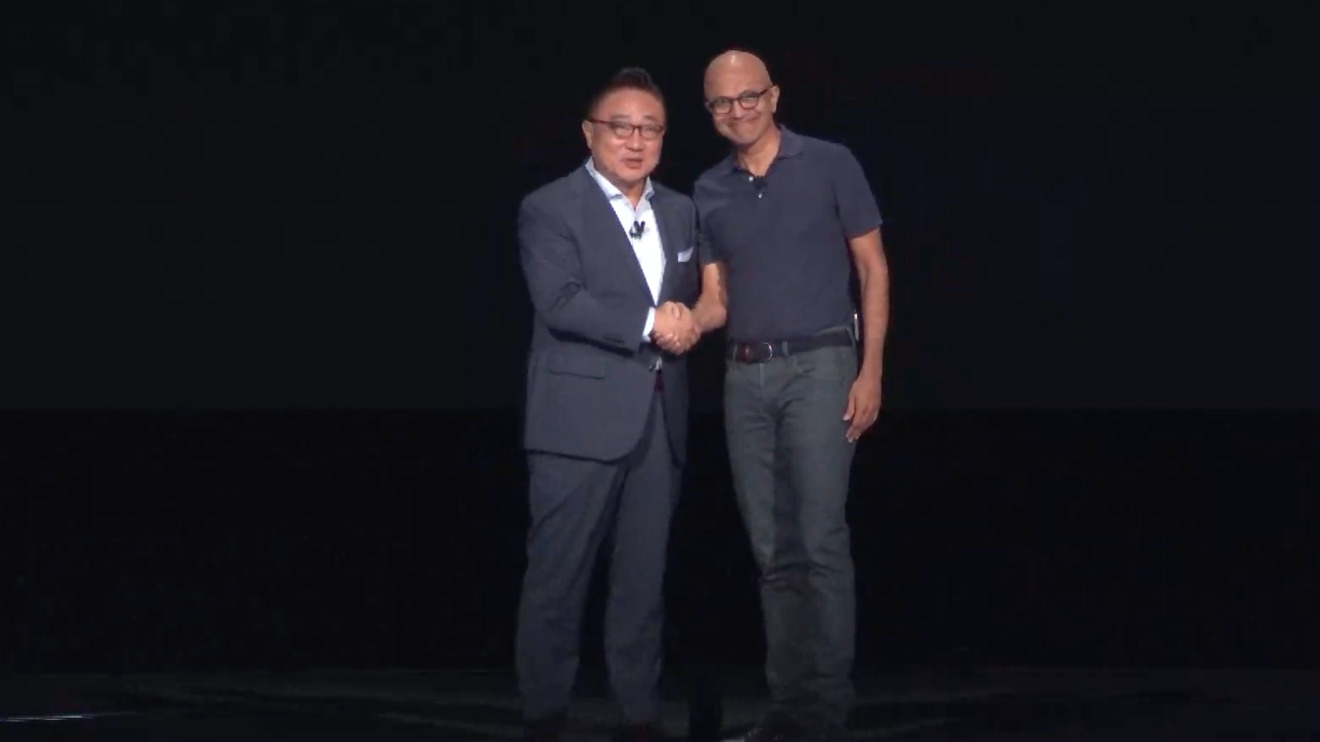 Samsung's "special guest" as teased by CEO DJ Koh was none other than Microsoft CEO Satya Nadella, talking up an expansion of the long-running Samsung and Microsoft collaboration.
Microsoft's and Samsung's partnership dates back to 2014, with bundling of Microsoft software on the Galaxy series of devices. The announcement and appearance on Wednesday at Samsung Unpacked escalates this partnership, with the Note 10 being sold in Microsoft's retail stores further driving the point home.
"Microsoft and Samsung share a long history of innovation and collaboration, and today's announcements mark the next stage in our partnership," said Nadella on-stage and in a statement distributed to press after the Samsung Unpacked event. "Our ambition is to help people be more productive on any device, anywhere - and the combination of our intelligent experiences with Samsung's powerful, new devices makes this a reality."
Starting with the Note 10, Samsung is bundling the Microsoft Your Phone app. The connectivity will allow Your Phone users to make and receive calls on a Windows PC later in 2019, in much the same way that iOS and macOS have been able to since iOS 11.
"Link to Windows" also brings features that iOS users have had for some time to the Samsung phone announced today. The new link allows synchronization of text messages and photos between a phone and Windows. An expansion of DeX allows users to connect a Note 10 to a Windows PC or Mac with a USB-C cable, to see the phone's screen on the desktop.
"We believe the mobile industry is on the cusp of a transformation, one in which individual devices give way to seamless, connected and continuous experiences, wherever we go," said Samsung President and CEO of IT & Mobile Communications Division DJ Koh. "Open collaborations, like this industry-leading partnership with Microsoft, are instrumental in pioneering a new generation of mobile experiences. As new technologies like 5G become a reality, our partnership will play an important role in helping people live more fluid, flexible lives."
The Note 10 is the first Samsung device to be "seamlessly integrated" into Microsoft's solutions. Samsung says that the Note 10 family is the first to get an "enhanced Outlook experience."
Coming soon from the pairing is synchronization with Microsoft OneDrive from Samsung Gallery, and a "Link to Windows" with one-button connection to mirror data on the phone to a connected Windows PC.
At present, it isn't clear what, if any, of the enhancements will make it to not just Android as a whole, but to other Samsung phones.