YouTuber iJustine launches Final Cut Pro X training app for macOS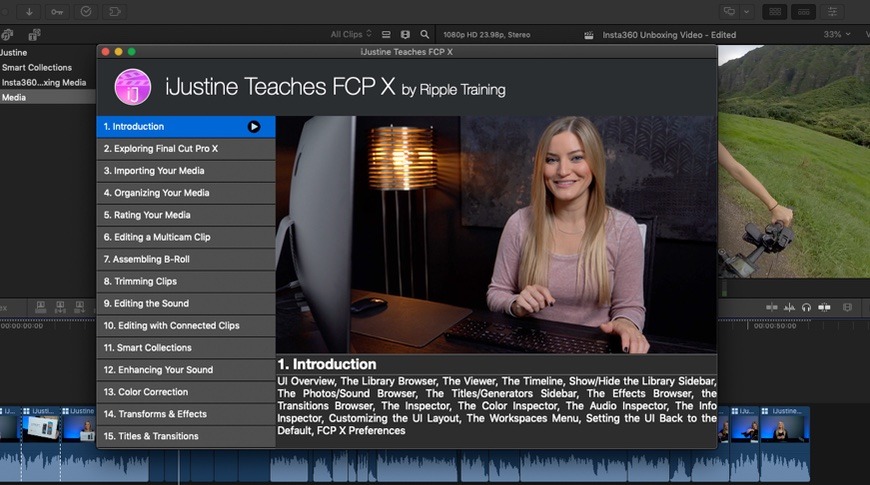 Prominent YouTube personality iJustine is moving into education, partnering with Ripple Training to produce a course on how to use Final Cut Pro X, one that could help inspire the next generation of content creators to produce their own videos for the streaming service.
The tutorial, titled "iJustine Teaches FCP X," shows how Justine Ezarik uses Apple's video editing software to produce content. Offering a view of her end-to-end workflow for creating videos, the tutorial is split up into 16 lessons covering each step in her editing process.
The lessons include how to import and organize media performing multi-camera editing, adding b-roll and music, color correction, adding titles and effects to a clip, and preparing the video for export to YouTube, among other topics. Each lesson lasts between 5 and 8 minutes, and include chapter markers for jumping to specific topics within a tutorial.
The tutorial itself is compliant with Final Cut Pro's Workflow Extension architecture, which means it can be used within Final Cut Pro directly. Accessible from the menu bar, it is able to be watched without users having to switch between the editing software and the tutorial app itself.
All of the lessons are provided by iJustine, who has over 5 million subscribers for her channel. The tutorials also use media supplied by iJustine herself, so users can follow along with the actions in a lesson in their own copy of Final Cut Pro.
The iJustine Teaches FCP X course is available now in the Mac App Store, priced at $29.99.
The offering is a small departure from the tuition Ripple Training usually provides, which includes more in-depth examination of Final Cut Pro X's features, as well as those of other creative apps, including Motion, Logic Pro, and DaVinci Resolve. Given iJustine's celebrity, the new tutorial could help introduce Ripple's other educational elements to a new crowd looking to build upon the course's knowledge.