Apple HomePod versus Sonos & Ikea Symfonisk smart speakers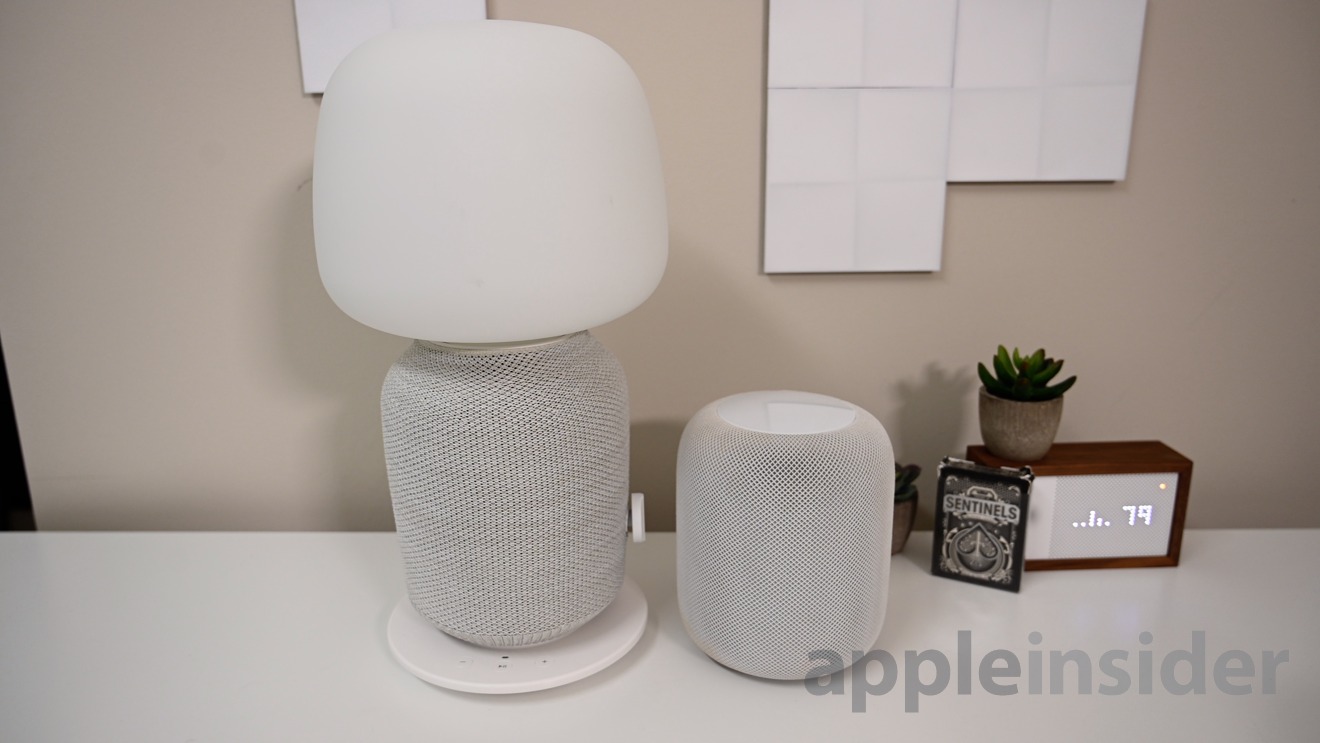 AppleInsider is supported by its audience and may earn commission as an Amazon Associate and affiliate partner on qualifying purchases. These affiliate partnerships do not influence our editorial content.
After we published our reviews of the Ikea Symfonisk line, we got asked to directly compare the product to Apple's HomePod. So, let's do it.
Similarities
There are many commonalities between these two devices. They are both wi-fi speakers. And at first glance, the speaker parts look pretty similar.
The body of the Ikea Symfonisk is just slightly larger before you get to the lamp and base. While the HomePod is smaller, it is also a dedicated device so the Symfonisk may be preferred as it can also replace a lamp at the same time.
For Apple users, both devices rely heavily on AirPlay 2, natively support Apple Music, and can be configured in a stereo pair.
They also each can be automatically tuned to fit the space, though through different means. The HomePod uses an internal array of microphones and accelerometers to automatically tune itself whenever moved and the Symfonisk lamp uses Truetune from the Sonos app on an iPhone.
Neither work over Bluetooth.
HomePod
Apple's HomePod is a fantastic home speaker. It connects solely over Wi-Fi and streams Apple Music natively, but nothing else. Any other audio must be streamed using AirPlay 2.
The HomePod is hefty and more compact than the Symfonisk Lamp, and sends audio out in all directions. The only physical controls are located on top in the form of a simple touch-sensitive screen.
There are microphones internally which are used not just for tuning, but for conversing with Siri and taking phone calls. If you are looking for a speaker with a virtual assistant, then this is your option as Symfonisk has no assistant whatsoever.
In the fall of 2019, iOS 13 and the updated HomePod software will bring even more features. That includes multi-user support for up to six people and Handoff support that allows phone calls and audio to instantly transfer between the HomePod and your phone with a tap.
Ikea Symfonisk Lamp
The Symfonisk Lamp has a lot going for it as well — and not just the light that sits atop.
For privacy-minded individuals, the lack of any sort of microphone is a huge benefit. It also has an Ethernet port around back so it doesn't have to rely on the wireless network.
On the front are simple physical buttons that make the Symfonisk Lamp easy to control without a series of taps. Plus, instead of just acting as a stereo pair, Ikea's Symfonisk Lamp can also be configured to act as rear satellite surround speakers for any Sonos soundbar.
The Symfonisk Lamp isn't limited to just AirPlay 2 and Apple Music. There are dozens of other sources that can be triggered by the Sonos app, and streamed natively by the speaker's hardware including Spotify, Pandora, Sirius XM, Tidal, and many more. If you don't use Apple Music, this is a huge benefit.
Audio quality
The Symfonisk Lamp is powered by Sonos and has much of the same acoustical properties as other Sonos speakers. It sounds great for its price point, hands down.
Apple's HomePod absolutely sounds better, though. Thanks to its own tuning and omnidirectional output, it fills a room with much better sound. The Symfonisk just isn't quite as powerful and doesn't have as much bass.
But that power has a downside. HomePod can be too punchy, especially at low volumes or while watching movies/TV. If the speaker is going to be used in a very small room or at low volumes, Symfonisk is the way to go.
Which to buy?
Choosing one over the other is a tough call unless you are looking for something specific — then it's easy.
If you are looking for a quieter speaker — go Symfonisk. The Symfonisk Lamp is the best for surround speaker use, if you don't use Apple Music, or want to take advantage of the light.
HomePod is going to be king if you want a smart speaker that has a virtual assistant, you love Apple Music, or you want the best sound and don't mind the higher price.
Grab the Sonos and Ikea Symfonisk Lamp or bookshelf speaker direct from Ikea for $179 or $99 respectively. Grab the HomePod at a now cheaper $279 from B&H.
Stay on top of all Apple news right from your HomePod or HomePod mini. Say, "Hey, Siri, play AppleInsider Daily," and you'll get a fast update direct from the AppleInsider team.