Apple Music sued by non-practicing entity that also targeted Spotify, Slacker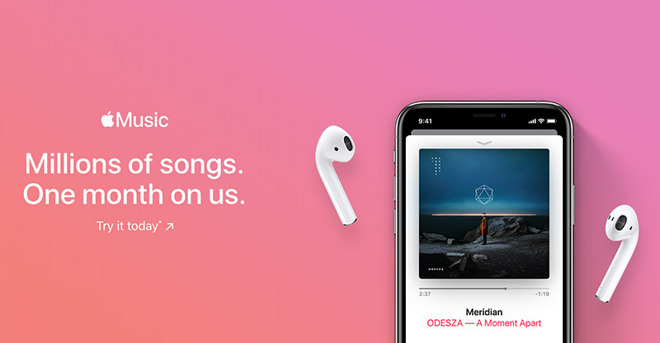 A non-practicing entity with what appears to be an abysmal track record of leveraging assigned patents to milk money out of popular music streaming services is suing Apple Music, claiming the product infringes on four patents.
Filed with the U.S. District Court for the Northern District of Illinois on Friday, a lawsuit leveled by Post Media alleges Apple Music infringes on a clutch of patents covering methods of broadcasting audio files over shared networks.
Specifically, the suit leverages U.S. Patent Nos. 7,069,310, 7,472,175, 8,725,832 and 8,959,181, each invented by Pasadena-based software developer Alan Bartholomew. The patents-in-suit, granted between 2006 and 2015, describe techniques of aggregating various file types, including audio, video and text, for upload to and ordered retrieval from the internet.
A somewhat vague set of connected intellectual property, the patents are claimed to address technical hurdles related to posting, sharing and playing back media through the internet and other networks. Additionally, patents-in-suit are said to solve posting and interface issues that crop up when working with different computing systems and accounts on shared networks, according to the filing.
Bartholomew assigned the inventions to his company Trio Systems, which owns subsidiary SoniClear. The latter currently markets digital audio recording hardware and software systems tailored for business, government and courtroom use. Whether the firm relies on IP detailed in the '310, '175, '832 or '181 patents is unclear, though SoniClear's recording software does support sharing on a network drive, according to its website.
According to the filing, Post Media is acting on behalf of Bartholomew, who is looking to recoup costs related to product development and patent procural. Bartholomew "turned to Post Media, whose purpose in part is to conduct the work necessary to reward and provide compensation to Mr. Bartholomew for the patents in suit."
Post Media attempted to leverage many of the same patents against Spotify and iHeartMedia in 2016 and Slacker in 2017. In both cases, named defendants did not respond to the complaint or subsequent court summons, prompting Post Media to request dismissals.
Post Media in its suit seeks from Apple damages, royalties with interest, costs and expenses, and court fees.