Bose Portable Home Speaker is the company's first rechargeable model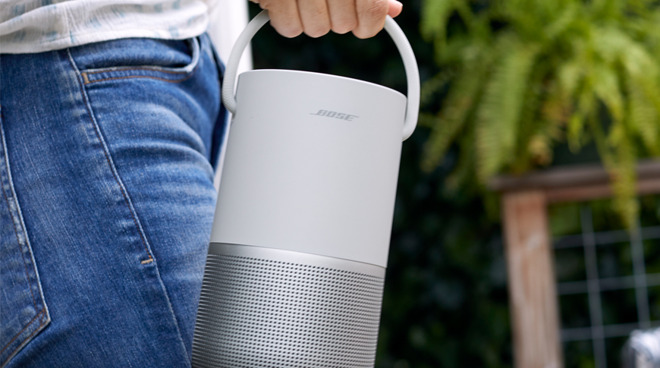 AppleInsider may earn an affiliate commission on purchases made through links on our site.
Bose will be adding the Bose Portable Home Speaker to its lineup in mid-September, featuring Bluetooth, Wi-Fi, voice control, and AirPlay 2 and Spotify Connect compatibility.
The new speaker, made out of anodized aluminum that is available in Triple Black or Luxe Silver, weighs in at 2.3 pounds. It stands 7.5 inches high and a scant 4 inches across, making it portable enough to take it from room to room with no effort.
The speaker is IPX4 rated, making it capable of withstanding incidental water contact, like rain, splashes from the pool, or beverage spills. The battery, which can be charged through USB-C, lasts for up to 12 hours on a single charge according to Bose.
Inside the Portable are three passive radiators, a high-excursion driver, and a proprietary deflector to distribute sound evenly throughout a room.
"Every Bose smart speaker is Bluetooth and Wi-Fi enabled, but the Portable is the first to offer a rechargeable battery — along with a short list of features everyone wants and loves," said Ben Burns, senior product manager for Bose speakers.
The Portable Home Speaker features Bluetooth connectivity to allow users to stream music from their phones, tablets, and computers. Additionally, it also uses wi-fi and a proprietary Bose voice pick-up system to work with both Google Assistant and Amazon Alexa, which are built into the system.
AirPlay 2 gives users the ability to play music from their iPhone or iPad, while Spotify Connect gives users the ability to access their Spotify account directly.
The speaker will also work with the Bose Music App, giving users additional functionality and the ability to update the speaker to the newest firmware when needed. The Bose Music App will also allow users to create multi-room systems with other Bose smart speakers and soundbars. The Bose Music App has multiple new features set to release both this and next year, including the ability to pair two Portables for stereo performance.
Perhaps most interestingly, Bose has chosen to include a mic-off button on the Portable, giving users the ability to cut power to the microphones. This design choice was to give users the ability to prevent any services from listening in or recording a user's conversation or environments. Alongside the mic-off button, the Portable Home Speaker also features buttons to control music manually.
The Bose Portable Home Speaker will release on September 19 for $349 to the Bose website, with an optional charging cradle that will sell for $29.