Early test suggests iPhone 11 Pro has 13% faster 4G LTE versus iPhone XS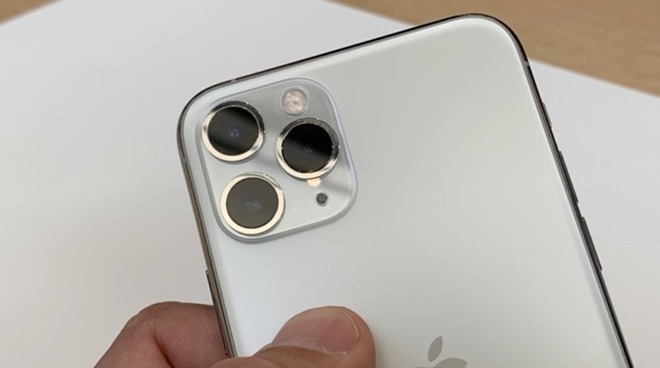 AppleInsider may earn an affiliate commission on purchases made through links on our site.
The iPhone 11 Pro may provide its owners with faster access to cellular networks, with one prerelease benchmark of the new model claiming that it offers roughly 13% faster connections to the internet over 4G LTE versus the iPhone XS and iPhone XS Max.
Hours after Apple introduced the iPhone 11, iPhone 11 Pro, and iPhone 11 Pro Max to the world, comparisons were made of their capabilities against previous models. While most can be determined simply by looking at specifications, one bandwidth speed monitoring app claims there has also been an improvement with its modem.
Posted shortly after its launch, the SpeedSmart app Twitter account displays a graph claiming to compare the 4G LTE connectivity of the iPhone 11 Pro against the iPhone xs and iPhone XS Max on the main four mobile networks in the United States. In each case, both the download and upload speeds achieved by the iPhone 11 Pro are higher than those of the previous generation.
It is worth taking the chart with caution, as short of being handed a prerelease version of the iPhone before the launch, the test may have simply involved someone at the Apple launch event installing the app and running tests using a variety of different SIM cards. The chart mentions the data was collected from August 9 until September 9, before Apple's launch event, and based on its "Nationwide Result Data," suggesting this period pertains to just the iPhone XS and iPhone XS Max result.
If the results are true, it is likely the use of a new modem is the reason behind the speed increase. It is likely that, with the introduction of Qualcomm modems instead of Intel versions for the 2020 model, as well as the use of 5G, further improvements will be seen in the next generation.
Until the iPhone 11 Pro is released or has undertaken multiple benchmarks, readers should be wary of such small-scale results. Also, as the results also rely on geography and the phone networks, it is unlikely that everyone will see the same set of results in their own personal trials.
Apple did not mention any 4G LTE improvements during the event, but its product page advises the iPhone 11 Pro supports up to 30 LTE bands and "Gigabit-class LTE," with its press release adding it can connect at up to 1.6Gbps over LTE.