Apple adds external storage support for iMovie, new content for Clips in app updates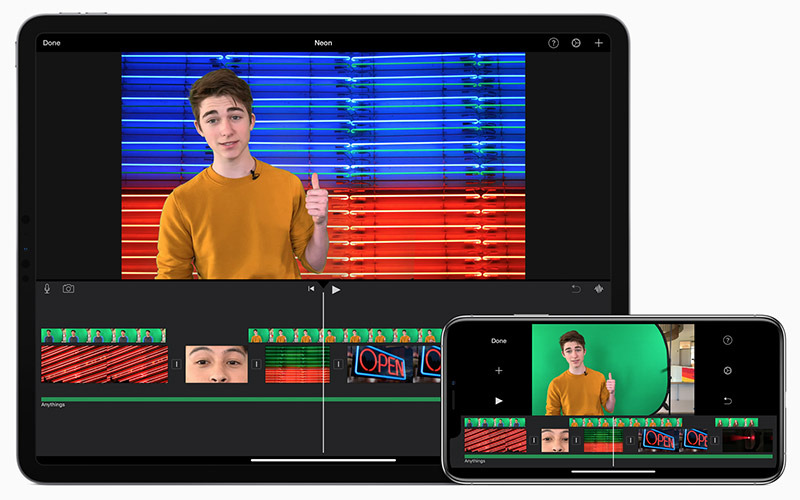 On the heels of Tuesday's release of iOS 13.1, Apple issued a pair of updates to first-party video content creation apps iMovie and Clips, adding new features like support for external storage, Dark Mode and more.
The latest version 2.2.8 of iMovie offers users the ability to access files and media from external hard drives, SD cards via card readers and USB drives. Similar functionality was added to the Files app with the release of iOS 13 last week.
In addition to new external storage, iMovie now automatically adjusts a selected soundtrack to match a movie's specified length when new theme music is added in project settings. Previously, users were prompted to manually trim audio.
The latest iMovie release also supports Dark Mode and Share Sheet options in iOS 13, as well as the usual performance and stability improvements.
As for Clips, Apple's video clip creator gets access to 19 animated emoji stickers like party poppers with confetti. Users can apply the stickers on top of created content for a fun, unique look.
Alongside emoji stickers, Clips adds three new posters in an embossed snowflake card, red envelope for Lunar New Year and glowing candles.
Like iMovie, Clips also gains support for iOS 13's new Dark Mode and Share Sheet capabilities. Performance and stability improvements are likewise incorporated in the latest release.
Both iMovie and Clips are free downloads from the iOS App Store, with iMovie coming in at 617.3MB and Clips tipping the scales at 173.4MB.