Apple's Lisa Jackson explains successes, struggles of environmental initiatives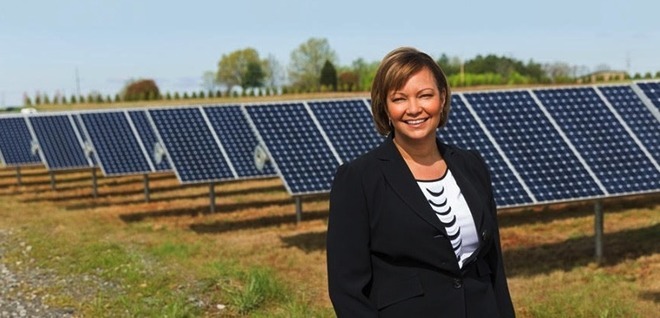 Apple VP of environmental, social, and policy initiatives Lisa Jackson in an interview published Thursday detailed the company's ongoing pursuit of environmentally responsible manufacturing and operations, saying that while Apple is off to a good start, there is much left to achieve.
In a lengthy interview with The Independent, Jackson said Apple's work on product sustainability will likely continue indefinitely.
While the tech giant is moving quickly into service, it is a hardware company at heart, meaning it will inevitably face new challenges on material sustainability, renewable energy and other related issues. Certain problems can be solved through the supply chain and some by smart design, but others, like governmental regulation, are more complicated.
"To be honest, I think it's going to go on forever — and I'll tell you why," Jackson said of Apple's environmental efforts. "It's like when we got to 100 per cent renewable energy. In 2017, Tim [Cook] and I said we're now at 100 percent around the world, but to stay at 100 percent is constant work. Because we're constantly building new facilities, adding teams, adding stores, adding data centers — and all of those have to get to 100 percent renewable pretty quickly."
Jackson pointed to the new iPhone 11 as an example. The smartphone's new Taptic Engine uses magnets create from rare earth minerals that will for the first time be recycled thanks to Apple technology. She goes on to note that work on in the area is far from over, as the Taptic Engine's magnets account for about a quarter of all rare earth minerals found in an iPhone.
The latest iPhones also incorporate recycled aluminum chassis and cobalt used in batteries, both of which were pulled from old hardware by Apple's Daisy disassembly robot. That said, Jackson notes new challenges arise as Apple moves to new materials and processes.
"We're making progress. Sometimes you wish you could speed it all up," she says. "We have 14 materials we've highlighted, and we don't have equal progress on them. But some of that's technology. Some of that's scale. Some of that's crazy things, like shipping regulations and how you can move materials around. So we have to work on all of those at the same time."
She goes on to explain how the company attempts to keep up with challenges presented by new hardware designs and manufacturing.
"If Apple is working on some brand new material, we're going to have to figure out how to recycle that," Jackson said. "But we also work very closely to say: as you're speccing a material, is there a way to spec recycled material?"
Diving deeper on the subject, Jackson detailed her approach to influencing product sustainability. Instead of assigning employees to oversee compliance with Apple's policies, the VP instills environmentally conscious sensibilities into members of working groups across the company.
"We didn't grab a bunch of product designers or product engineers and bring them all into the environment team. First off, it's just not the way Apple works: the collaborative nature of design means if you're not sitting with the designers, maybe there's a problem," she said. "We kept everyone where they were, and started to build a virtual team of people around the company who, in addition to everything else they do, would have a sensitivity and understanding of our goals around climate change and materials. Over time, that group has gotten bigger and further up the chain - we regularly now have discussions with designers very early in the process."
Support from high-level executives including CEO Tim Cook, SVP of Hardware Engineering Dan Riccio, CDO Jony Ive and others help move the initiative forward.
"I think it helps a lot that the folks who run those groups at the high level are also really committed to it, and asking the tough questions," she said.
Jackson believes government regulation is an important tool in pushing environmentally responsible principles to the tech industry as a whole.
Most hardware companies produce goods that are updated annually, while others market products rendered obsolete in mere months. The nature of modern consumer design places an emphasis on cheap materials, a condition that paints sustainably sourced goods as a luxury commodity.
"The role of government is to make that not be OK. If there are goals that we say as a society we want, like clean air, clean water, addressing climate change, being really efficient with materials [] there's a role for enforcement and for holding people accountable," she said.
Jackson also makes the case that efficient manufacturing and clean energy can be more economical than traditional alternatives.