Nomad upcoming Base Station Pro achieves AirPower-like free placement Qi charging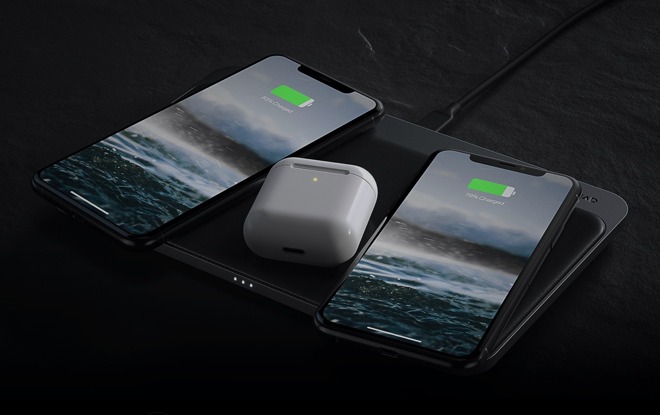 AppleInsider may earn an affiliate commission on purchases made through links on our site.
Upcoming Base Station Pro from Nomad is able to charge three devices simultaneously without worrying about placement, similar to Apple's ill-fated AirPower.
AirPower's failures may have finally been fixed — though not by Apple. Nomad, in a partnership with technology company Aira, is announcing an upcoming wireless charger that touts completely free placement for up to three devices.
Nomad's Base Station Pro, which is set to launch this November, is an upgraded version of its existing Base Station (review). Now instead of three Qi coils, there are coils all across the surface that will enable three devices to be placed anywhere on its premium leather surface.
Each of the three devices can charge at up to 5W each and will work with any Qi-enabled devices. That includes iPhones and AirPods but unfortunately not Apple Watch.
Nomad was able to achieve such a feat thanks to a partnership with Aira and its FreePower technology.
FreePower users a large wireless coil matrix paired with its proprietary power delivery algorithms that detect the devices quickly and optimizes the charge for each device.
Aira is set to debut its FreePower technology that is utilized in Base Station Pro this Sunday, October 13th on Shark Tank.
Base Station Pro is covered in padded leather with an aluminum body. It is powered by a 27W USB-C charger that is included in the box.
Starting today, users can sign up to be notified about the availability of Base Station Pro before the November launch.