Hands on: Flujo Signature Pro USB-C dock brings ports and SSD storage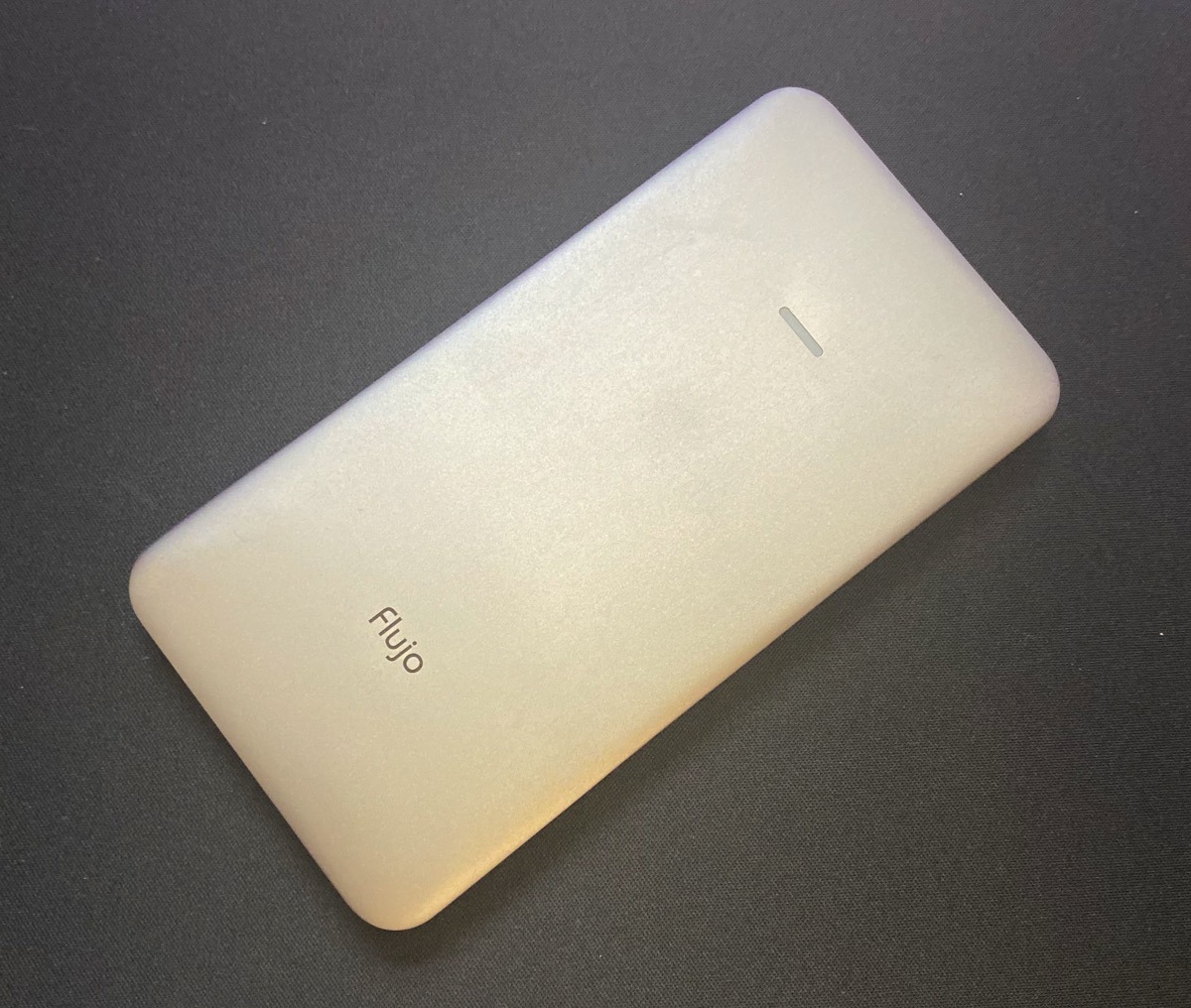 Very little differentiates USB-C docks for the Mac or iPad Pro these days. But, a new portable dock is different enough that we thought we should point it out — the Flujo Signature Pro.
What the Flujo Signature Pro is and does
We've got an early production run sample of the Flujo Signature Pro, provided by the company. The host computer is plugged in to the narrow-end USB-C port, erroneously labeled Thunderbolt 3 in our pre-production sample — but more on that in a bit.
For your trouble, you get two USB 3.1 type A ports labeled at 10 gigabit per second speeds, and one USB 2.0 type A port for a keyboard or other low-bandwidth peripheral. You also get a SD card reader, and a microSD card reader, both of which can be used simultaneously at about 35 megabytes per second peak speed from either.

The HDMI port is capable of a connecting to a single display running at 4K with a refresh rate of 60Hz. Also on that end is the USB-C power-in port. This is not a daisy-chain port, and is only used to provide up to 100W of power to the host computer.

So far, this is no different than any other USB-C port breakout box, or dock. But, from a technological standpoint, what sets it apart is the M.2 slot for a SSD underneath the dock.
Using a WD_Black SN750 1TB M.2 SSD, we got speeds of about 800 megabytes per second read and write. The drive is capable of about 3.5 gigabytes per second read, and 3 gigabytes write speed, so this is just a fraction of what the drive is capable of if it was installed in a different enclosure.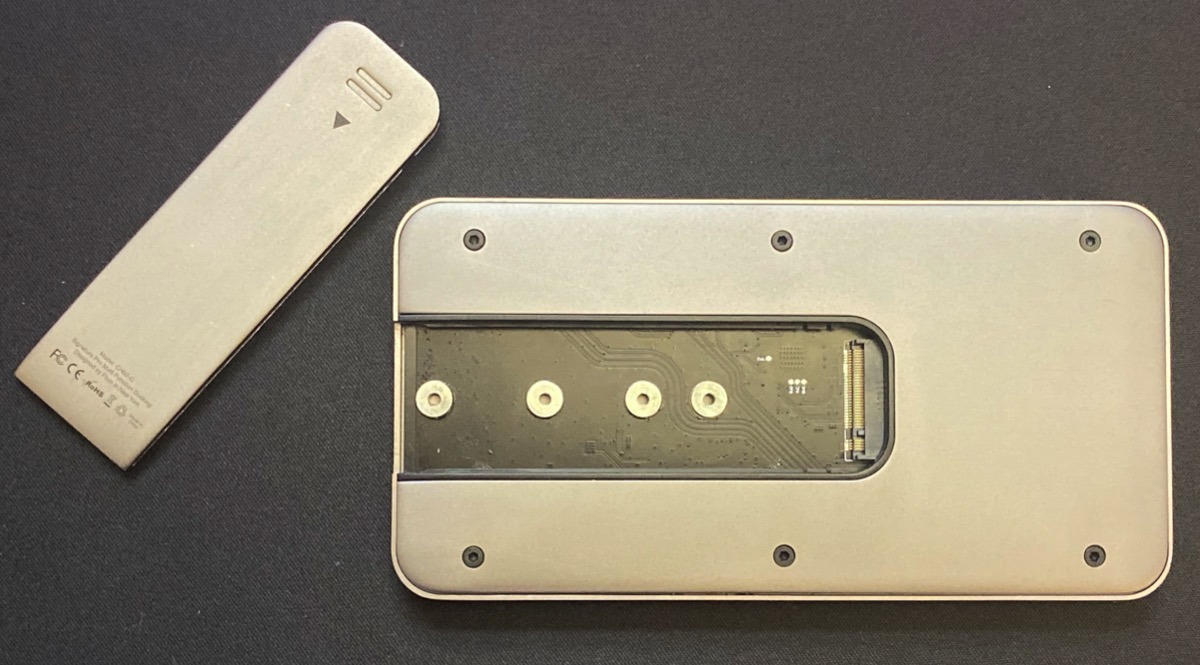 Build quality is good, and the metal case is milled well. Other than the confusion about Thunderbolt 3 on our sample versus USB 3.2 type C in the production model, the metal case is labeled clearly with port speeds, which is a nice touch.
USB 3.2 type C versus Thunderbolt 3
Despite the labeling on our sample, the Flujo Signature Pro is not a Thunderbolt 3 device, and we've confirmed that with the company. It is a USB 3.2 type C peripheral, limited to 10 gigabits per second of data transfer in total.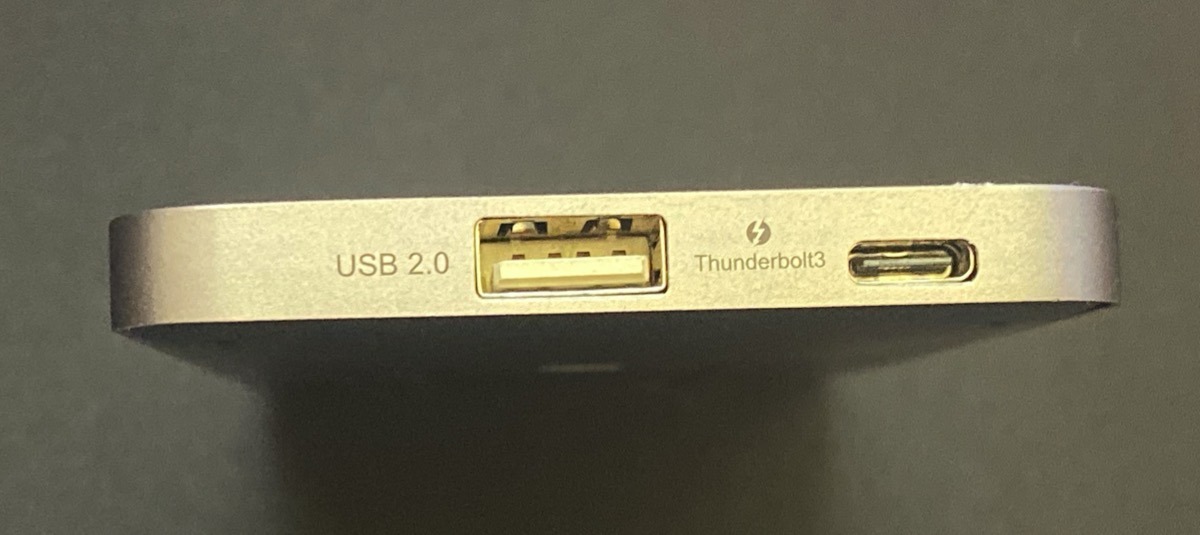 Loading up the Flujo Signature Pro with external USB-A drives, a 4K60 monitor, and the internal M.2 SSD puts an enormous load on the connection. With our 512GB Western Digital M.2 SSD, we saw speeds dip to 300 megabytes per second read and write when connected to a 4K60 display, and a pair of other SSDs, all cranking away at the same time. This is absolutely the worst case scenario — but if you see slamming the device with input and output as a frequent use case, you may want to invest in a Thunderbolt 3 dock, and not a USB 3.2 type C one, like the Flujo Signature Pro.
Regardless, don't spend big money on a fast SSD. The Flujo Signature Pro M.2 slot and associated connectivity is really only designed for about a quarter of that top speed in the best case scenario with it by itself in the dock and limited input to and output from the other ports.
Convenient and tiny
Stuffed in your bag for on-the-go, used as an interim step between your AC adapter and the computer, or in between a HDMI monitor and your MacBook Pro for occasional use, the Flujo Signature Pro is good as a concept and in execution. Just don't expect to get Thunderbolt 3 data transfer speeds out of it, and you'll be fine.
That USB 3.2 type C thing may be a benefit to some, though. You can plug the Flujo Signature Pro into a USB-C equipped iPad, and use just about everything you want. We couldn't get the USB 2.0 port to reliably work with the iPad Pro, but everything else did, with drives being spotted in the Files app and the USB 3.0 type A ports functional.
Power pass-through to the iPad Pro worked too, but don't consider it a powered dock. If you've got fussy hard drives that prefer powered USB hubs or power-hungry peripherals, this isn't a good solution.
The Flujo Signature Pro is being crowd-funded right now on Kickstarter. It is already funded, and all the early-bird spots have been taken. But, US customers can get one for $149 USD or so, depending on currency fluctuations, with an estimated delivery of November 2019.